Handyman
South San Francisco advances 292 residences | Native Information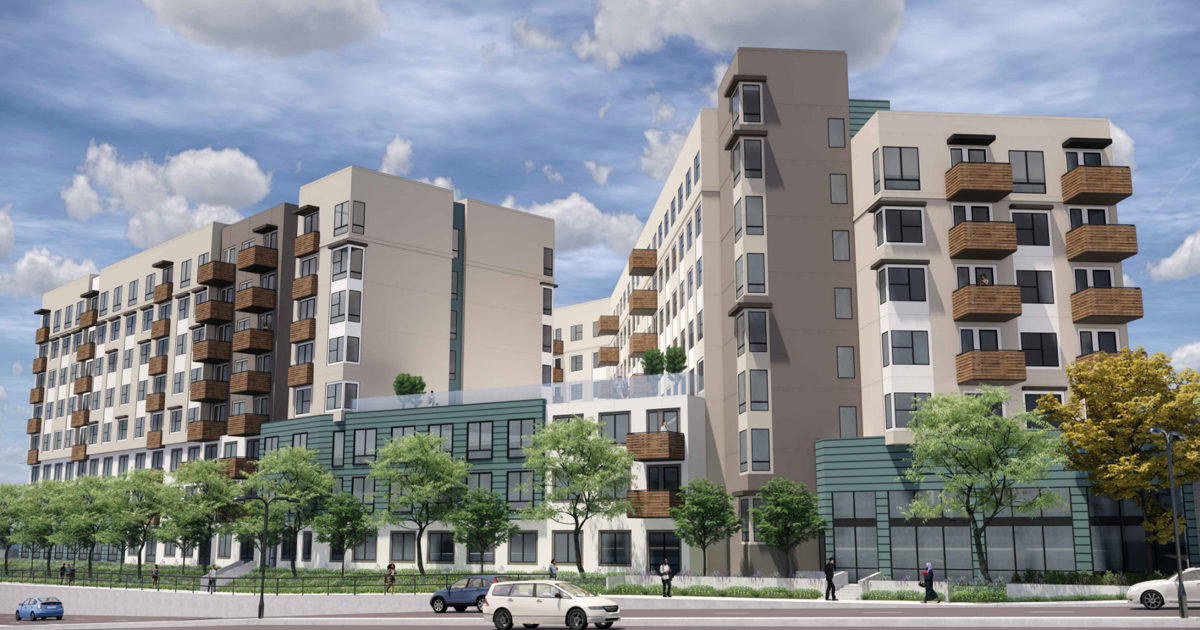 A new 292-unit apartment building has been proposed in South San Francisco to replace an aging industrial facility near Highway 101.
The building would rise eight stories on a 1.6-acre lot at 40 Airport Blvd. and include 308 parking spots in a multi-level garage. The site is bordered by the highway and Caltrain tracks, and would sit adjacent to a La Quinta hotel and Denny's restaurant. Across the street a 480-unit apartment building is planned, slated also to replace industrial buildings.
The city's Housing Standing Committee, which includes members of the City Council and Planning Commission, gave the project a positive review last week, advancing it to a vote to grant entitlements at a later date.
"I think it's a great addition, the existing building doesn't do the area justice," said Planning Commission Chair Sam Shihadeh.
The plans were originally submitted in late 2020, when the city's zoning for the site was for an industrial use. With the city's general plan update, the lot will allow for a residential building. The existing facility, occupied by a produce distribution company, is regularly accessed by large trucks.
"I would say it no longer really fits with the character of the neighborhood, particularly as this area's programmed to move to more residential uses," said Ryan McNamara, vice president of development for Blake Griggs, the Danville-based developer for the project.
The building would be 330,000 square feet, with the structure wrapping around a central courtyard and most units including balconies.
McNamara said the apartments would be smaller than average new units in the area, allowing for more affordable rents. On average, rents would be $200 to $300 less than nearby new construction, resulting in studios in the $2,400 range and one-bedrooms under $3,000, he said.
The smaller size will require a reduced subsidy from the developer to provide affordable units in line with the city's inclusionary zoning requirements. The city's rules require 10% of units be offered with rents affordable to those earning 80% or less of the county median income — which works out to studios offered at or below $2,558, one-bedrooms at $2,741 and two-bedrooms at $3,290. Another 5% of units would need to be more affordable, for those earning 50% or less of median income, with rents in those categories at $1,598, $1,713 and $2,056, respectively.
The building would include 57 studio units, 32 one-bedroom units, 122 two-bedroom units, 59 three-bedroom units and 22 four-bedroom units. Amenities would include a cafe and bar for residents only, a gym, a rooftop lounge, coworking space and a pet run and cleaning area. Parking space for 135 bicycles would also be available.
The developer proposed to cover the cost of various changes to Airport Boulevard, including adding bike lanes, removing a separated turning lane to improve pedestrian safety and making landscaping improvements. A payment to the city of $630,000 was also offered as part of the agreement, which would come on top of standard impact fees to be paid by the developer likely to cost several million.
Councilmember Mark Addiego suggested the developer could also make improvements to a nearby pedestrian tunnel under the train tracks that provides access to downtown and transit stops.
The developer of the 480-unit project, slated for 124 Airport Blvd., proposed lighting and paint upgrades to the tunnel, which some councilmembers had indicated could be insufficient. McNamara said because the tunnel is owned by Caltrain, more extensive upgrades to it would require its cooperation. He said further upgrades would be explored in conjunction with the developer of the other project.
The larger project was the subject of a lengthy and contentious approval process, and finally received the green light late last year amid concerns that the developer, Hanover Company, did not plan to employ union carpenters during construction. The property owner, PS Business Parks, opted to seek a new developer this year.
Addiego said Texas-based developer Trammell Crow had been chosen as a replacement.
"Sounds like we might have some high-level, major players out there creating a new neighborhood, so I'm pretty excited," he said.
Mayor Mark Nagales emphasized the need for both developers to coordinate upgrades along Airport Boulevard. He also raised concerns regarding disruptions if both developments were to be constructed at the same time.
But, he said, "overall, I'm pretty excited about the project."