Moving
Why San Francisco's Cafe du Nord cannot be killed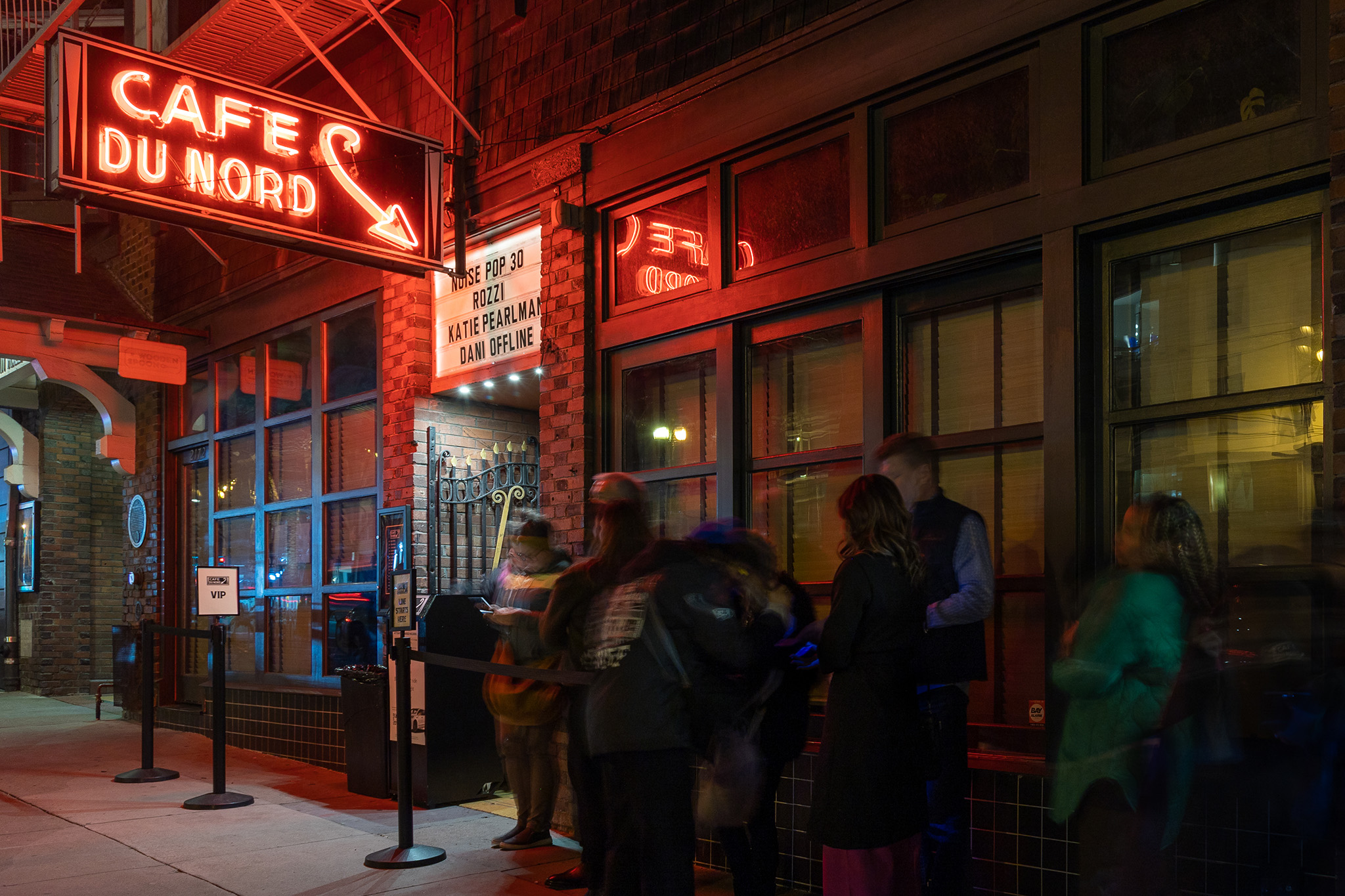 On a Friday night, Rozzi, an aspiring soul singer, performed a sold-out show at the Cafe du Nord in San Francisco as part of Noise Pop 30.
"It's so nice to be home!" said Rozzi early in her set. Known for her command of a wide vocal range in the style of Amy Winehouse, the singer-songwriter grew up in the Bay Area and attended Marin Academy. As they sipped on oak-aged Negronis and $5 cans of Bud, the returning crowd was treated to the kind of performance countless spectators had previously witnessed at the historic club.
Rozzi is a classic example of the kind of acts that come through the Cafe du Nord before heading onto bigger stages. The venue has served as a springboard for many artists just starting out in their careers. My Chemical Romance, Janelle Monae and Brandi Carlile performed at the Cafe du Nord long before they topped the charts in their respective genres. Neil Young, Bon Iver, "Weird Al" Yankovic, Chelsea Handler and Mumford & Sons have all made stops in the basement, Cafe du Nord management said.
Returning to her San Francisco roots, Rozzi will take the stage at the Cafe du Nord on Friday night, February 24, 2023.
Kevin Kelleher & Emily Trinh/Special for SFGATE
Intimate but packed with star quality, Rozzi's show was a shining example of why Cafe du Nord has stood the test of time. Over the past hundred years, the venue has survived world wars, Prohibition, supernatural hauntings, countless changes of ownership and two pandemics. But after its recent COVID-19-related hiatus, the music hall is back.
When asked about the venue's longevity, owner Dylan MacNiven had a simple answer.
"Building is kind of based on passion," MacNiven said. "It's such an interesting piece of San Francisco history that certain people come here and they're just really inspired and energized."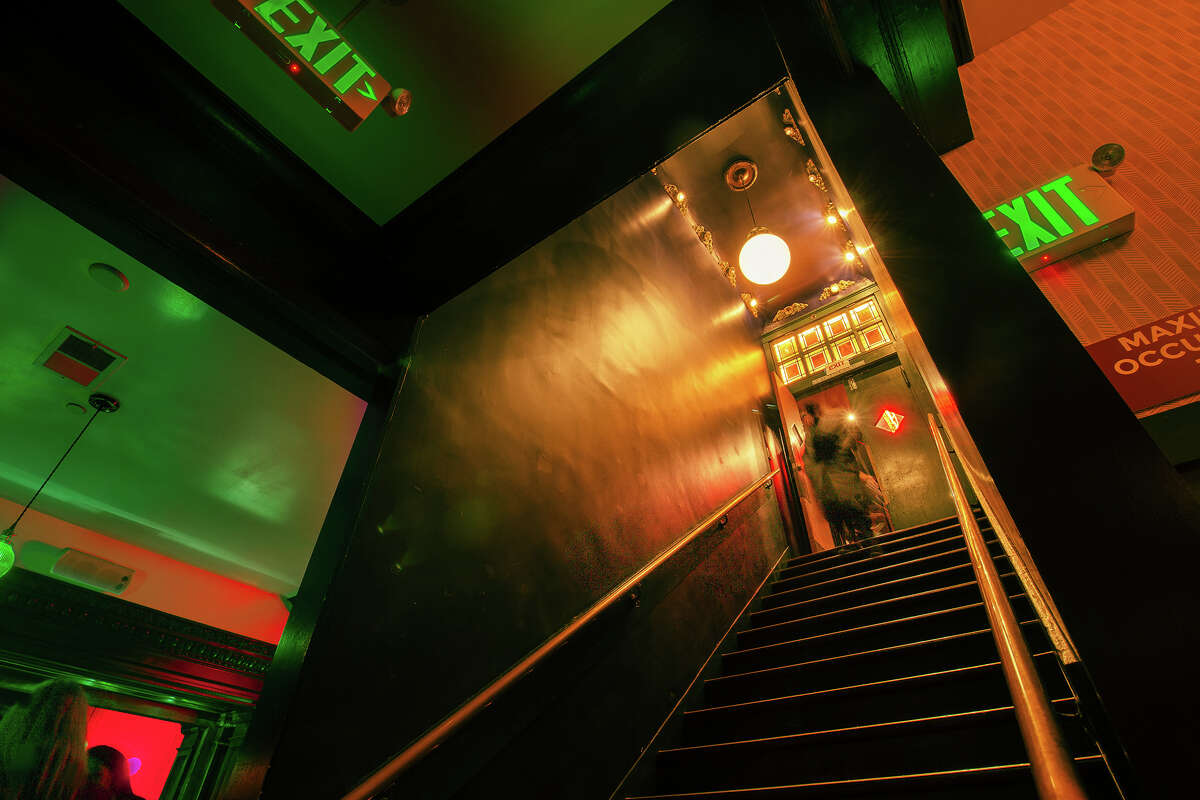 The doors at Cafe du Nord will open as concertgoers enter the venue in San Francisco's Castro neighborhood on Friday night, February 24, 2023.
Kevin Kelleher & Emily Trinh/Special for SFGATE
Located on the edge of the Castro, down a narrow flight of stairs from Market Street, Cafe du Nord seats about 350 people in an intimate but rarely cramped setting. With relatively cheap tickets ($18-$25 for most shows) and short entry lines, the venue offers a low-key option for live music compared to many of San Francisco's larger clubs. Though it's a relatively small space, a recent Muni ad campaign emphasized that size hasn't stopped it from attracting bands like Portugal. The Man and Blink-182 early in their careers.
Some might wonder why the building looks more like a snow chalet than a rock 'n' roll club. The answer involves a dive into San Francisco history. During the turn of the 20th century, San Francisco had one of the largest Scandinavian populations in the county. The influx of Swedish, Norwegian and Danish immigrants who settled in what is now the Castro neighborhood led to the area becoming known as "Little Scandinavia".
To preserve their culture, these immigrants built the Swedish American Hall in 1907, which allowed the newcomers to gather, celebrate, and speak their native language. The building hosted many activities above the board, such as sing-alongs and fundraisers. But down in the basement, where the Cafe du Nord may have operated as a gentlemen's club, it wasn't as pristine. This became doubly true when alcohol consumption was banned in 1920.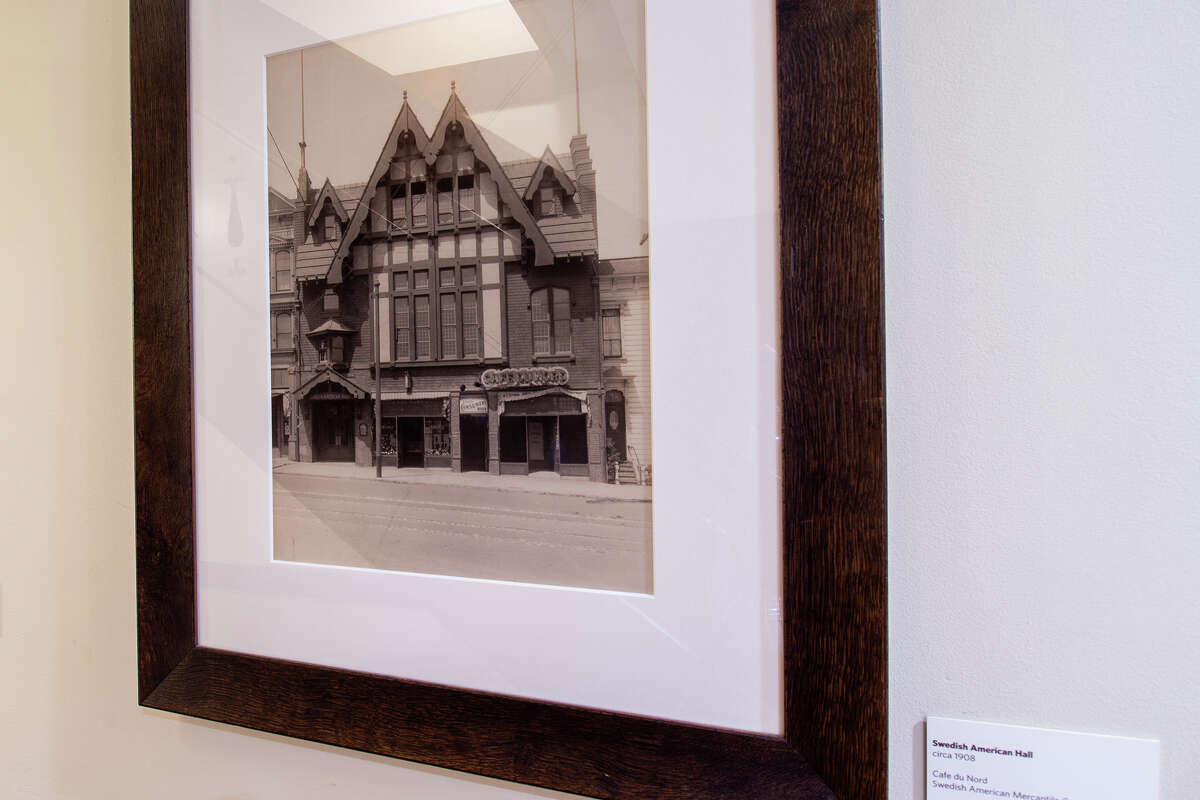 An archive photo shows the Swedish American Hall and Cafe du Nord around 1908.
Kevin Kelleher & Emily Trinh/Special for SFGATE
The venue's mysterious history also includes several supernatural elements. Rumors of a ghostly plague have lent credence to the place's reputation for immortality. A ghost named Lady in Red is said to still haunt the cafe. Staff have said the ghostly lady occasionally messes with the lights or sound. In an email to SFGATE, Cafe du Nord managing director Nico Govea confirmed that there had been a "disproportionate number of reports of 'strange noises' in the building".
"Last week one of our old bartenders was closing and heard someone singing in a foreign language (Swedish?) and there was nobody else…" Govea wrote. Classic lady-in-red demeanor.
One of the few non-supernatural relics from the Prohibition era is a peephole that allowed staff or patrons in the basement bar to see the street above, which could have been used to keep law enforcement in mind.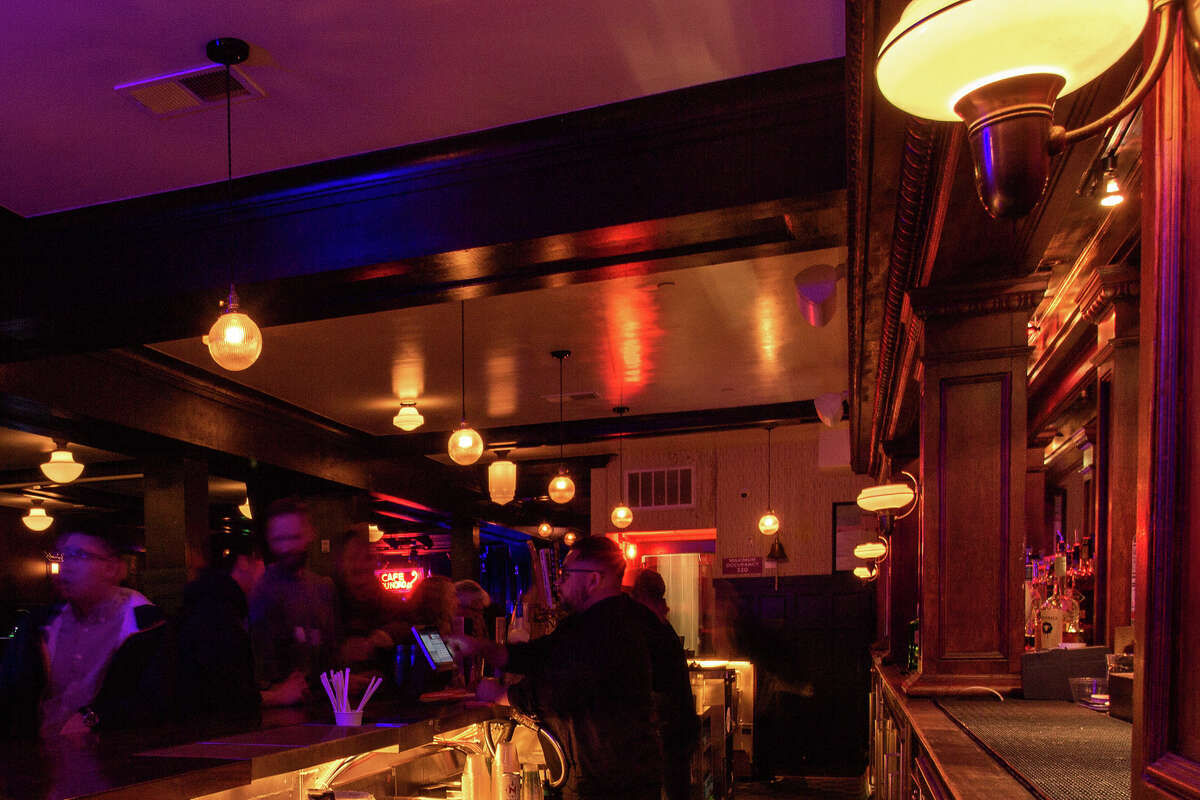 Pizza is available to order in the huge 1920s bar at the Cafe du Nord on view on Friday night 24th February 2023.
Kevin Kelleher & Emily Trinh/Special for SFGATE
Cafe du Nord seems to have remained a Scandinavian restaurant and hangout (the sillfrukost — breakfast pickled herring — was the best in town!) until 1974, when it became a Basque restaurant, though the decor still had "a Nordic feel" to San Francisco Chronicle review of the restaurant said. The transition to rock venue came in the late 1990s.
The MacNiven team took over the venue in 2013 but had to close for renovations that lasted more than a year. Additions included a VIP area, dramatically improved acoustics, and an elevator that both makes the space ADA compliant and makes it easier to invite the bands in. Decades earlier, bands would have to lug their gear down a narrow flight of stairs to the basement, which, according to a SFGATE editor whose band used to perform there, was "a real pain in the ass".
Like all music venues in San Francisco, Cafe du Nord was forced to close during the pandemic, but stayed closed longer than most, delaying reopening until late 2021. Shortly thereafter, the venue began a partnership with Live Nation in 2022, giving the venue access to larger ones Headliners and Live Nation provides a historic venue for intimate shows like BottleRock's AfterDark series. Beach Weather, Danielle Ponder and Garza, who all play BottleRock's main festival, will be making stops at Cafe Du Nord as part of the series. The venue also partners with local promoters such as Noise Pop, who hosted 30 shows at the club during the last two weeks of February as part of Noise Pop.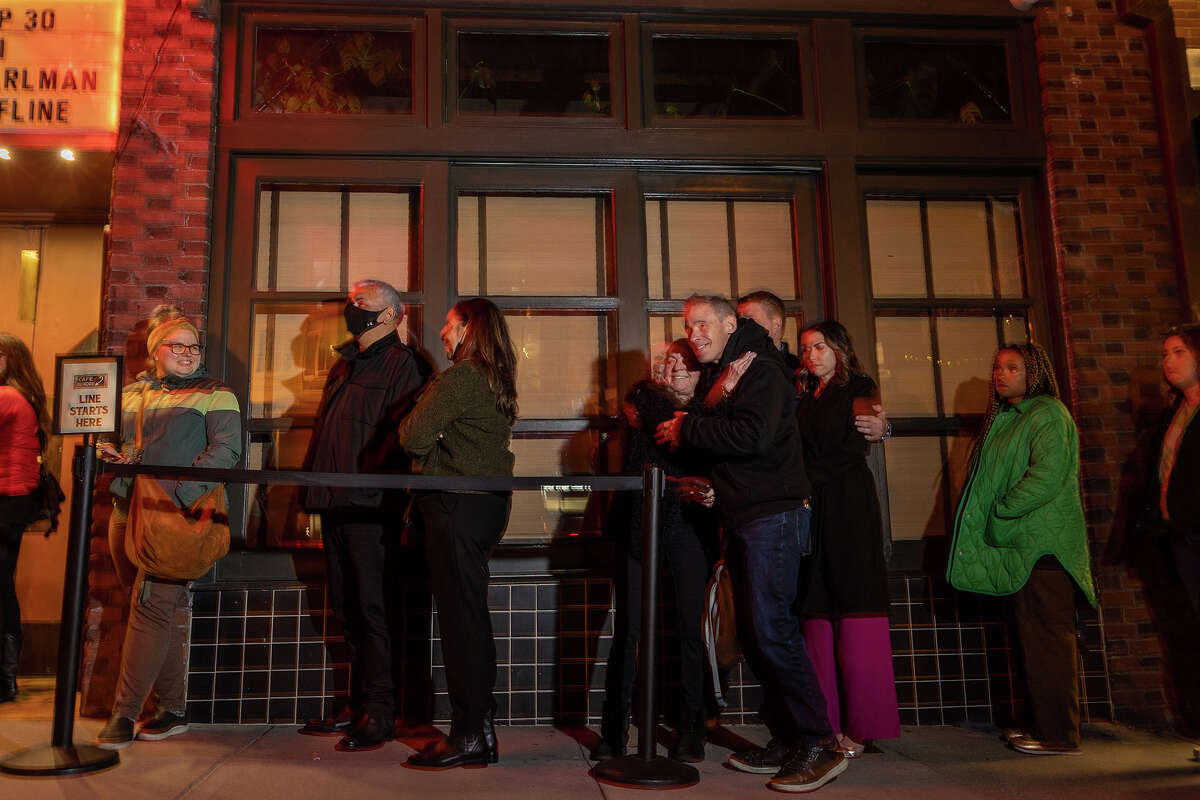 Concert goers line up outside the Cafe du Nord on Market Street for a noise pop show on Friday night, February 24, 2023.
Kevin Kelleher & Emily Trinh/Special for SFGATE
MacNiven says playing Cafe du Nord is an important stepping stone for many acts. The venue is often a stopover for bands playing their first full tours – for some it's their first time getting paid to perform. The same applies to the concert-goers. Youngsters often make up a large part of Cafe du Nord's crowd. For many it may be their first time experiencing live music in a proper music venue, a responsibility the people at Cafe du Nord take seriously.
"I've never played a sold out show at a San Francisco venue before," Rozzi said during her set, reiterating that principle.
Running a small music venue is a tenuous endeavor, especially in a world of COVID-19 and tiny profit margins. MacNiven admits the Cafe du Nord isn't the most profitable business, but says the historic venue serves a more important purpose.
"I believe there is always a place for personal human contact. Whatever band is on stage, whatever kind of music comes out, [live music] will be something that will exist forever," said MacNiven.
If the past 115 years are any indication, the Cafe du Nord might as well exist forever.