Moving
What to Watch at Frameline46 – San Francisco Bay Occasions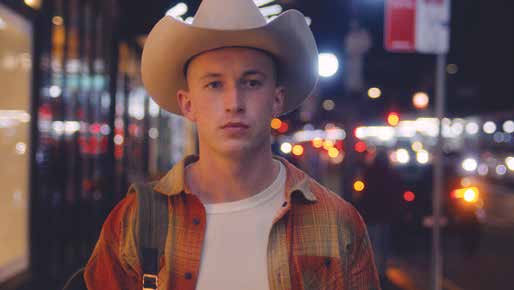 By Gary M. Kramer–
Frameline, the Bay Area's LGBTQ+ Film Festival, opens June 16 with a screening of two episodes of A League of Their Own, the forthcoming episodic series based on the hit 1992 film. It will close 11 days later, with a screening of Peter Van Kant, by out, gay filmmaker François Ozon, a reworking of the Rainer Werner Fassbinder classic, The Bitter Tears of Petra von Kant. In between there are 125 features, shorts, documentaries , and episodic series unspooling at various theaters. In addition, dozens of titles screening at the festival will be made available online for streaming June 24-30. Check the website for details: https://www.frameline.org/
With so many films to choose from, here's a guide for what to watch:
In the topical Brazilian import, Follow the protocol(June 16, 9:30 pm, Castro; also streaming),Francisco (writer/director Fábio Leal) is lonely and horny after almost a year in lockdown. He fills his days with mundane tasks, like watering his plants, dyeing his hair, and exercising, but he really just wants to have sex. When he reconnects with Raul (Paulo César Freire), an old friend/flame, they initially touch each other through a plastic curtain, but soon they get more intimate, and Francisco gets more anxious. However, their tenderness is sweet compared to a rougher encounter Francisco has with another guy (Lucas Drummond) he has over. Follow the protocol is all about Francisco finding his comfort zone, and viewers will be rooting him on, or squirming along with him. This is a gentle, romantic gay drama for the pandemic.
The phantom in the Chilean drama Phantom Project (June 17, 3:30 pm, Castro; also streaming) is seen periodically as a naked, animated figure. He haunts Pablo (Juan Cano), a gay, unemployed actor, among other characters, in a way that is more low-key than scary. The amiable Pablo has a series of encounters that range from a strange sexual experience and a weird episode at a Holistic Center, to upbeat exchanges with a neighbor, an actress, and even a promising first date. But much of Phantom Project is aimless and dull, and not very gay, which will make viewers wish this wisp of a film had been stronger and more compelling.
In the outstanding character study wandering heart (June 17, 9:15 pm, Castro; also streaming), written and directed by Leonardo Brzezicki, Santiago (Leonardo Sbaraglia) is a restless and lonely gay man. He tries to reconnect with his ex, Luis (Alberto Ajaka), who wants to sever ties with him completely. Santiago also has difficulty with his moody teenage daughter, Laila (Miranda de la Serna). He needs to find his inner balance, but he is too busy trying to have fun hooking up, drinking and drugging, attending sex parties, and seeking love with either a Chilean guy, or a couple he meets in Brazil. Sbaraglia is remarkable as an impulsive man who experiences extreme highs and lows. He is completely vulnerable and heartbreaking dancing naked by a pool or sharing a moment of intimacy at a children's party. It is an incredible performance in an incredible film.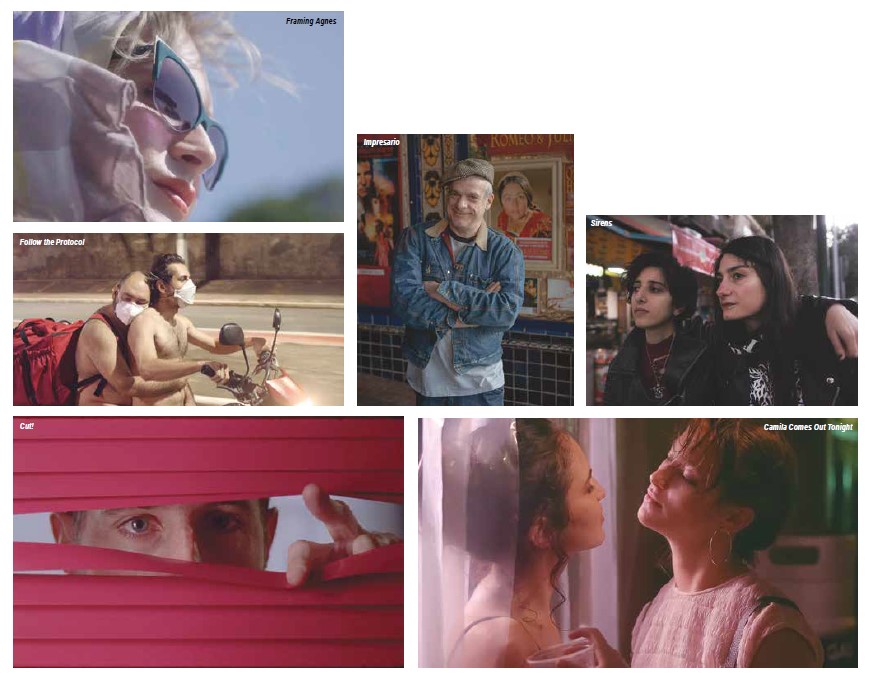 Framing Agnes (June 18 at 4 pm, Castro; also streaming) deftly unpacks the legacy of Agnes, a transgender woman who lied to get access to gender reassignment surgery in the 1960s. While she navigated a system designed to exclude her, her behavior also generated negative attention within the trans community. Director Chase Joynt, (the trans codirector of No Ordinary Man), recreates UCLA professor Harold Garfinkel's interviews with six transmen and transwoman using files from the university's archives to explore how transpeople have been sensationalized in American culture. The discussions address Christine Jorgensen, and the networks that transpeople developed, to issues of passing, and the paradox of false personas, as well as relationships, risks, visibility, and privilege. Joynt's film also features commentary by trans historian Jules Gill-Peterson, who places Agnes and these other trans pioneers' lives in perspective. The result is a layered and fascinating portrait of trans history.
Wildhood (June 18, at 4 pm, Roxie; also streaming) is nonbinary Mi'kmaq writer/director Bretten Hannam's fabulous tale of brotherhood and belonging as Link (Phillip Lewitski), a gay teen, and his younger half-sibling, Travis (Avery Winters-Anthony), hit the road hoping to reunite with Link's long-lost mother. Along the way, they meet Pasmay (a fantastic Joshua Odjick), a Two-Spirit who guides them—and who develops romantic feelings for Link. Wildhood is a pretty standard issue road movie, but it features both a tender romance and an uplifting message about finding love and family.
The poignant documentary Nelly and Nadine (June 19 at 4 pm, Castro; also streaming) uncovers the hidden history and "double lives" of its titular subjects, Nelly Mousset-Vos and Nadine Hwang. They met in the Ravensbrück concentration camp and began a romance that continued after the war. Filmmaker Magnus Gertten follows Nelly's granddaughter, Sylvie, as she pieces together the story through letters, diaries, photographs, Super-8 films, and interviews with folks who knew the couple. This lyrical, inspiring documentary recounts Nelly and Nadine's experiences during the war, their hope—and will—to both survive and be together.
A festival highlight is Where Butterflies Don't Fly,(June 19, 6:30 pm, Roxie; also streaming), by out gay writer/director Roman Nemec. This intense, claustrophobic film has Daniel (Daniel Krejcik), a misfit teen, trapped in a cave with his gay teacher, Adam (Jiri Vojta), during a class trip. The relationship that develops between the two men is shrewdly played, with Daniel challenging Adam about not being more open about his sexuality at school. But it also borders on inappropriate as when Daniel asks Adam to share his sleeping bag to warm up his body. The guys film, magnificently staged and shot on location, astutely addresses issues of masculinity and sexuality, as well as ideas about love and loneliness as the struggle to find a way out. Nemec captures the tension between the characters well and both Krejcik and Vojta are excellent. See it on the big screen!
sirens (June 19, 8:45 pm, Castro; also streaming) is director Rita Baghdadi's affectionate documentary that traces the ups-and-downs of Slave to Sirens, the name of the first all-female metal band in Lebanon. Its co-founders, Shery Bechara and Lilas Mayassi, do not conform in the specific gender norms for women in the Middle East; metal is a way for them to "be who they want to be without limits." As Lilas starts dating women in secret. Sirens captures her struggles and the resiliency and the overarching difficulties of being queer and female playing metal in the Middle East.
Keep the Cameras Rolling: The Pedro Zamora Way (June 20, 3:45 pm, Castro; also streaming) is a sincere documentary that pays tribute to the late HIV-positive Pedro Zamora, whose appearance on MTV's The Real World has tremendous sociocultural impact. Directors William T. Horner and Stacey Woelfel use interviews with Zamora's sister Mily and his father as well as archive footage to (re)acquaint viewers with Zamora, a gay man who came to Miami. from Cuba when he was 8. They talk about his AIDS activism and his life before he joined the cast of The Real World in 1994. Keep the Cameras Rolling then interviews a handful of the show's cast members about their memories of Pedro, recounting the impact of having an HIV-positive housemate as well as the influence Zamora has educating viewers and changing minds about living with AIDS. His groundbreaking work includes kissing and "marrying" his boyfriend Sean Sasser on the show, but as Horner and Woelfel emphasize it was how Pedro represented love and life, even as his health worsened. The filmmakers also feature interviews with President Bill Clinton to provide context for Zamora's important story. This is a poignant documentary about a young man who left an important legacy.
Sure to have tongues wagging and hearts beating fast is Australian writer/director Craig Boreham's erotic romance lonesome (June 20, 9:15 pm, Castro). Casey (Josh Lavery in a star-making performance) is a cowboy hitchhiking his way to Sydney hoping to see the ocean and escape his sordid past. Hooking up with Tib (Daniel Gabriel), Casey ends up befriending the young man, staying, and working with him; their bromance-with-benefits is sweet. Lonesome will be most appreciated for the attractive actors' near-constant nudity and copious sex scenes. The magnetic Lavery gives a flinty turn as Casey, who absorbs and endures considerable psychological and physical abuse. Lonesome features a familiar and obvious plot, which makes the film feel only skin deep—but the emphasis here is on skin.
impresario (June 21, 4 pm, Castro; also streaming) is a loving portrait of San Franciscan Marc Huestis, who has been a fixture in the city for decades, and at the Castro Theater, especially, where he has produced "Celebrations" for two decades. This charming documentary, directed by Lauretta Moliter, traces Marc's life from his salad days in the 1970s, when he performed in drag shows and cabaret, to his ventures into filmmaking (Sex Is …) and hosting the Gay Festival of Super 8 Films (that eventually became frameline). He also candidly talks about his political activism, his HIV status, and the memorial services he arranged for friends with AIDS, as well as his late-blooming love of nature and his community garden. Featuring commentary by local luminaries including Dan Nicoletta and Rob Epstein, among others, impresario celebrates Huestis as he is—cuddly one minute, crotchety the next, and always unapologetically living his truth. Moliter's film makes viewers want to hug him.
Camila Comes Out Tonight (June 21, 6:30 pm, Roxie; also streaming)from Argentina, has the title character (Nina Dziembrowski) moving to Buenos Aires so her mother, Victoria (Adriana Ferrer) can manage her dying grandmother's affairs. Enrolling in a Catholic school, Camila befriends Lourdes (Laura Daniela Visconti) and the gay Pablo (Federico Sack). She also starts separate romantic relationships with Bruno (Diego Sanchez) and Clara (Maite Valero). However, her activism and liberal views about abortion, feminism, and sexuality are not appreciated by some of her classmates; this gets Camila into trouble. She also has tensions with her mother. This absorbing coming-of-age drama shows how Camila's politics have an impact on those around her, and director/cowriter Inés Barrionuevo features many scenes that indicate this—from her stealing a kiss from Clara by the school's swimming pool or participating at a protest for women's rights. Although this film is slow, its observational nature pulls viewers in, and Dziembrowski makes Camila sympathetic and empowering.
Writer/director Marc Ferrer's Cut! (June 21, 9:15 pm, Roxie; also streaming) has the filmmaker starring as Marcos, a queer filmmaker who makes giallo movies. He offers a drag queen at a nightclub a part as the first victim in his newest production, only for her to be murdered. When someone else involved with Marcos' film is killed, it may not be a coincidence. The police have no leads, but there are suspects aplenty, including two actors hoping to land a part in Marcos' film. Cut! is a meta-movie, with several discussions of the bad acting and references to giallo master Dario Argento (as well as Rainer Werner Fassbinder). For viewers who can appreciate the crude, low-budget nature of Ferrer's film—with violence that is more stylized than scary, and sex that is more suggested than shown—this affectionate homage has its charms.
The Exotic Documentary Uira – The Rising Forest (June 22, 8:30 pm, New Parkway; also streaming) is a deep dive into the rainforest of Manaus in the Amazon, where Emerson aka Uýra Sodoma, a non-binary, trans indigenous artist, leads workshops and non-traditional drag performances to raise awareness for environmental issues and to protest against deforestation. The film, directed by Juliana Curi, features striking images of body painting and performances as well as political messages about identity, water and land rights, racism, and the erasing of history and ancestors.
© 2022 Gary M Kramer
Gary M. Kramer is the author of "Independent Queer Cinema: Reviews and Interviews," and the co-editor of "Directory of World Cinema: Argentina." Follow him on Twitter @garymkramer
Published on June 9, 2022