Handyman
South San Francisco strikes ahead with new 292-unit constructing | Native Information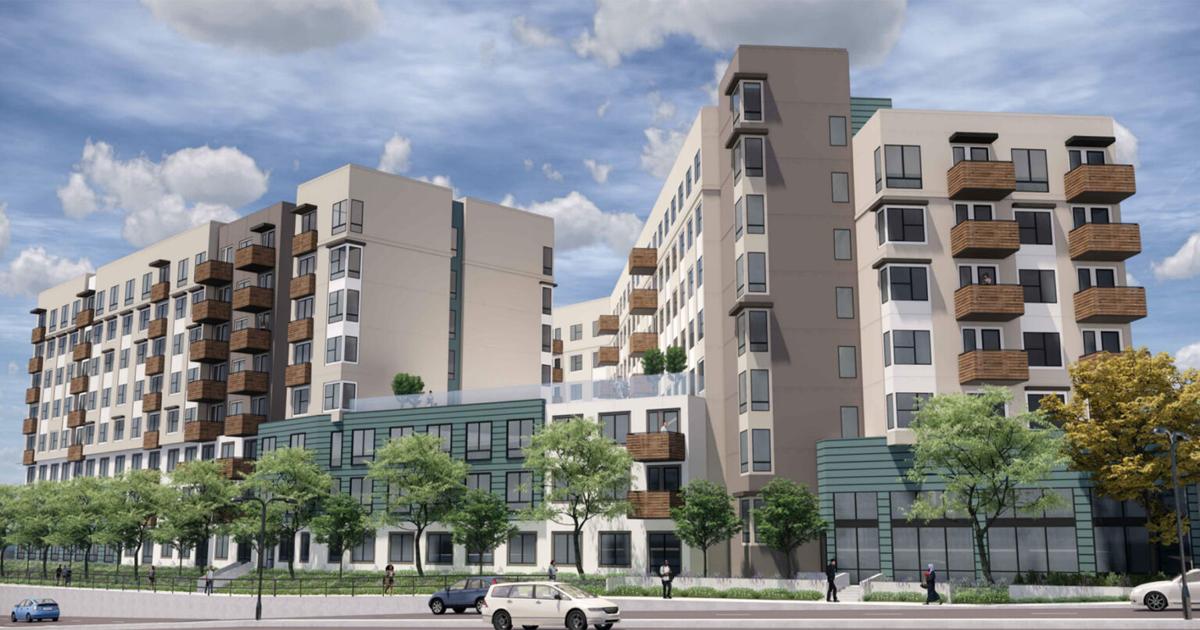 A 292-unit apartment building designed to replace an aging industrial facility off Highway 101 in South San Francisco received unanimous approval from the planning commission this week and will next go to the city council for final approval.
The building would be eight stories on a four-acre lot at 40 Airport Blvd. bordered the freeway and the Caltrain tracks and would sit next to a La Quinta hotel and Denny's restaurant. The area, which is close to downtown, is mostly industrial, but has recently been designated for housing development by city planners.
"I think living in this area makes a lot of real sense," said Commissioner JulieAnn Murphy. "I think this is a good project and a good thing for the city."
The building would be 330,000 square feet, with the structure winding around a central courtyard. A multi-story garage would provide 308 parking spaces, and 33,000 square feet of leisure space would include a coworking space, a cafe for residents, and a rooftop lounge.
Ryan McNamara, vice president of development at Blake Griggs, the project's Danville-based developer, said the apartments would be smaller than the average new units in the area, which would allow for cheaper rents.
On average, rents would be $200 to $300 less than new builds nearby, resulting in studios in the $2,400 to $2,600 range and one-bedrooms near $3,000, he said he.
"We hope that by creating these different types of units, we'll be able to better serve the community and create a price point that's better for our residents," he said.
The smaller size also means less subsidy to the developer to provide affordable units consistent with the city's zoning requirements. City rules require that 10% of units be available for rent affordable to those earning 80% or less of the borough's median income — which translates to studios for $2,558 or less, one-bedrooms for $2,741 and two-bedrooms for $3,290. Another 5% of units would need to be more affordable, for those earning less than half the median income, with rents in those categories of $1,598, $1,713, and $2,056, respectively.
In total, the plans envisage 57 studios, 32 one-room apartments, 122 two-room apartments, 59 three-room apartments and 22 four-room apartments.
Parking, McNamara said, will be an additional fee for off-the-shelf units but free for those that are subsidized. Many jurisdictions are required to not include a parking lot by default, he said.
"By unbundling and adding to the cost of owning a car, it discourages people from having a car when they don't need one and encourages them to take public transport," he said, a long time, of the sustainable community."
Commissioner Michele Evans said she was concerned the policy would result in people taking up parking for nearby businesses. "It's still not my favorite concept in housing," she said.
As part of the agreement, the developer will bear the cost of various changes to Airport Boulevard, including adding bike lanes, removing a separate turn lane to improve pedestrian safety, and landscaping improvements. A $630,000 payment to the city would be in addition to standard impact fees, likely costing several million dollars.
Commissioner Alex Tzang said he was less concerned about parking policies and hoped to see more projects with fewer parking spaces.
"I hope this becomes the norm for the citizens of South San Francisco, where we really use public transportation, walk more and stay fit," he said. "We see projects with fewer and fewer parking spaces."
A residential complex with 480 residential units in two buildings is planned across the street, which will also replace industrial buildings. 560 parking spaces are proposed, which became a point of contention during the permitting process when Mayor Mark Nagales requested fewer parking spaces for future projects in exchange for cheaper rents.
Both projects are within walking distance of the South San Francisco Caltrain station. The developers also plan to work together to improve a pedestrian tunnel under the train tracks to improve access to downtown.
"The key, if you want to activate your downtown area, you want to bring new businesses, you have to get people there who can walk," McNamara said. "And this project would contribute to that."
The city council will vote on final approvals, including zoning changes, at an upcoming meeting.