Chimney Sweep
As Nopa turns 15, chef Laurence Jossel displays on its legacy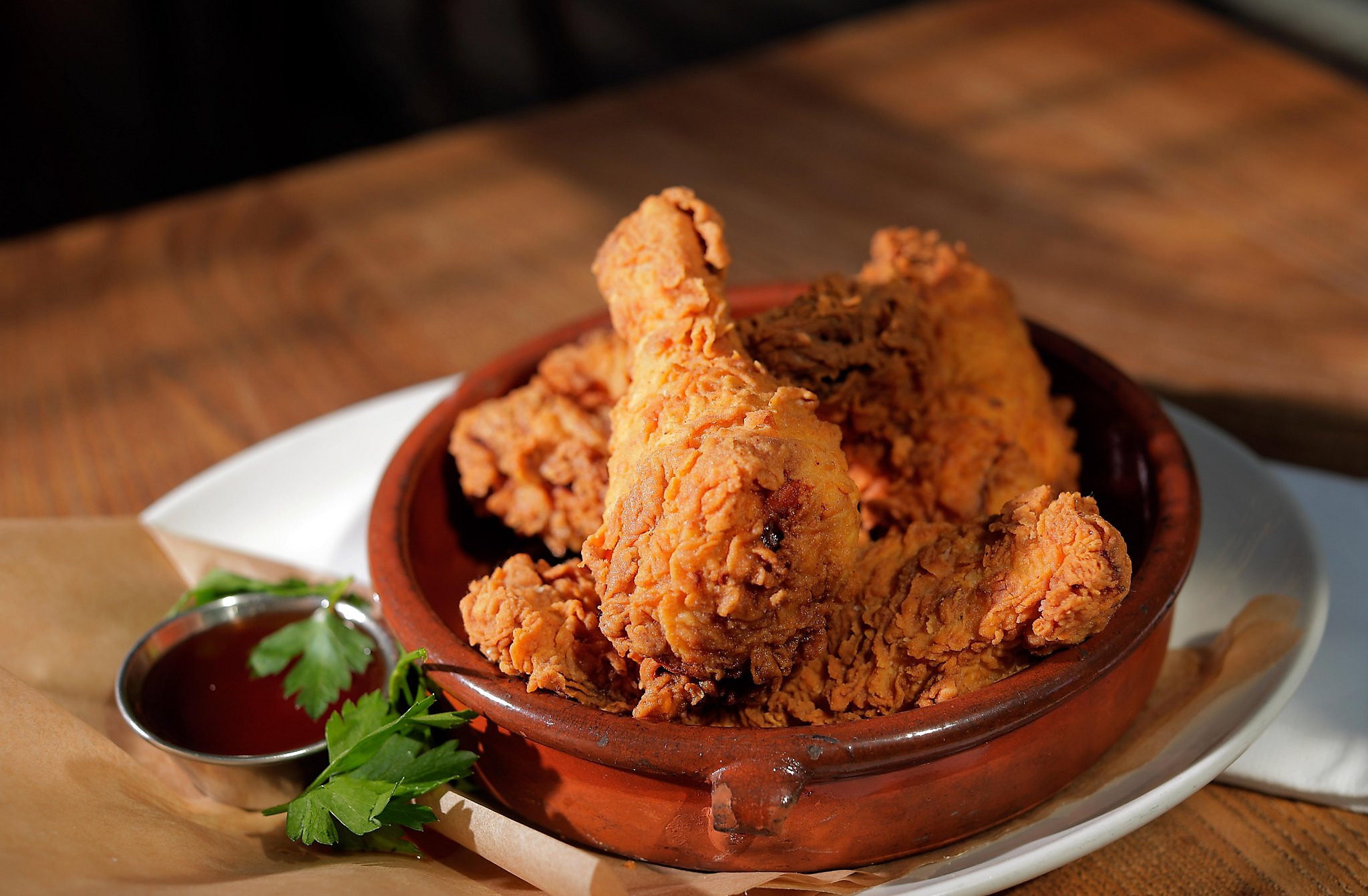 After a year of packaging Bolognese and pork chops wrapping, Nopa joined the parklet scene in early March, allowing his longtime fans to finally eat in restaurants, if only outdoors, since the pandemic began. Since last week there are also 10 indoor tables. Exciting, but still not the same jam-packed, nightly party Nopa has basically been since Jeff Hanak, Laurence Jossel, and his then-fiancée Allyson Woodman opened the restaurant 15 years ago.
It was a different world then. In 2006, on the corner of Divisadero and Hayes Streets, there was nothing but a coin-operated laundromat with long doors, which is why they could afford it. The rent for the two-story, 4,000-square-foot room was $ 7,000 per month. Laurence trolls auctions and pays pennies for pots and pans. They asked their friend Brian Barneclo to paint a wall-length mural inside honoring the street. They called it Nopa (as in North of the Panhandle), and it became arguably the first full-service late-night neighborhood eatery – in their neighborhood – then known only as Western Addition, where culinary options were limited to Popeyes, pizza and a popular grill counter. Yet gentrification was quietly going on.
Laurence, Jeff, and Allyson had a common goal: to feed their people until 1am, heretical at the time for sleepy San Francisco. "The tipsters and speakers," said Jossel, referring to all the bartenders and waiters who came in at the extra-long bar after their shift for elderflower and wood-grilled burgers. A busy brunch soon followed. (Just like Nopa's new neighbors: Bi-Rite. Boutiques. Josey Baker was selling $ 8 toast (now).) At peak times, the kitchen was cooking for about 4,000 customers a week.
Fast forward to 2021 and Nopa – the restaurant and neighborhood that essentially renamed it (after years brokers tried and failed) – had what we all had: a difficult year. And how many COVID relationships (including Bill and Melinda): a breakup. The once close trio has broken up, 51-year-old Jossel remains standing. Somehow he is not exhausted, but full of energy, supported in Nopa's next chapter by his new partner Holly Rhodes, who acts as a delivery driver. He's also excited to see the new bestseller on his menu: Fried Chicken ($ 23).
I spoke to Laurence about the split, Nopa's legacy and the future of his restaurant. The following conversation has been edited and condensed for the sake of clarity. (Disclosure: Rachel is a longtime Nopa regular and friends with Laurence, Allyson, and Holly; their children all go to the same school.)
Nopa was largely limited to takeout before Laurence Jossel managed to secure a parklet for the restaurant in March.
Carlos Avila Gonzalez / The Chronicle
Q: So what happened? Breakups are so hard. And I knew that you already had one personally. … It's like a breakup over a breakup.
A: Yes, Allyson and I got divorced five years ago and the reality was, it was really hard to work together during that time. When couples split up, they can usually take their time. They can say, "I'll talk to you in six months." But we still had to see each other every day, sit across from each other at meetings and talk about paintwork or whatever and pretend everything was fine. It has taken an emotional toll. Back then I didn't want to be there anymore, but how could I just walk away? We both had every right to be there. So we did it. We made it.
Q: Until the pandemic. The big reset.
A: It was scary the day after the shutdown. Jeff and Ally were both, we don't want liability. Let's just close it. I said: we can't. We have too many people in this restaurant who don't get government support. We have to show the neighborhood that smoke is coming from the chimney. They said, "We're out." The pandemic has made everyone look at their lives and say, "Is this really what I want to do?" And it wasn't for Jeff and Ally. They have their other restaurants, like Liho and Nopalito. It was months of negotiations. At one point I thought you know what, well, just take it. Buy me out. I am conflict avoidance. I just start over. And Holly kept saying, "You will regret it. It's no nopa without you. "(The Chronicle reached out to Jeff with no response. Since the story went online, Jeff has said he had not received the Chronicle's request for comment. Allyson declined to comment, adding for wishing Laurence all the best for Nopa's future.)
Q: Now you are everything. How does it feel?
A: Well it was heartbreaking. Jeff and I were brothers. He gave my son his middle name – Louie. Long story. Holly and I lived on her 401k, we put our mortgage on hold. Our children raised themselves this year. But it feels great to be the sole owner of Nopa. I've never been the sole owner of anything. I am the boss. It remains to be seen whether I can be an entrepreneur. I have 10 jobs now. I clean bathrooms. But after 37 years of working in restaurants in San Francisco, this is my first time not under any obligation.
Q: And you have had a parklet since last month. Why did it take you so long to build one?
A: We had to move a bus stop! Holly heard the head of the SFMTA (Michael Krasny's radio show) one morning and called: She said, hey, the Hayes-21 is no longer running. We clean up after the homeless, our business suffers. Help us. We want to build a parklet. I tracked down the head of Clear Channel Outdoor (an advertising company that runs billboards and other outdoor signs. It turns out they own the bus stops and we had to move one. I cooked the guy a chicken. Instead of their advertising, we asked after to rent it. We call it the Glass Canvas. There will be a different local artist every month. Holly is the curator. I also like that we have this neon-lit steel structure in front of our parklet. These parklets are not safe, man. If one Our car hits, it hits steel, not our guests.
Q: Thank you for thinking of us. Are people so happy to be eating at Nopa's again?
A: It's amazing how emotional everyone was. On Instagram, outside. They say: "We met here." Or "We got engaged here." Or "I ate here the day before my baby was born. … The day I found out my mother had died. "They tell me," I can't wait to go to the bar. "They say," We ​​did it. We survived that together. "To be honest, we did. It's not just a pork chop for people.
Q: It's not just a pork chop for you, either, is it?
A: Sometimes I think I could have been braver, started something new. But I did something at the beginning of COVID. Holly went home, everyone was gone. I was just turning off the light in the dining room and just stood there and swore to the building that I wouldn't let it go. I said i love you I owe you. I owe this building. I owe it to the legacy of all these cooks and waiters, bus drivers, bartenders and guests that it goes on. I owe it to the neighborhood to show – that after all that is lost – we are still alive. Nopa is sitting in exactly the right place on the planet to make people happy.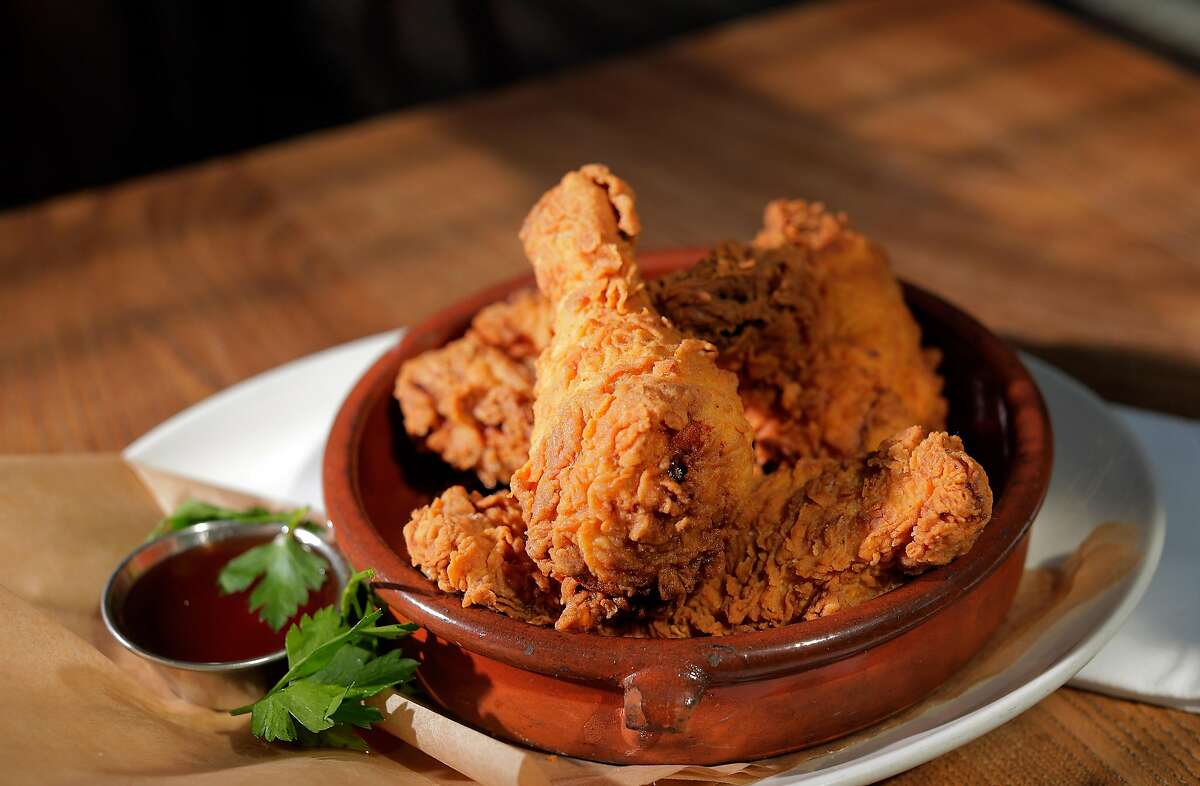 Nopa added a fried chicken dish ($ 23) to its menu during the pandemic. It is the restaurant's second most popular product after the burger.
Carlos Avila Gonzalez / The Chronicle
Q: You know what else makes people happy: your new roast chicken.
A: Holly and I were actually two days away from signing a small window lease in Potrero for nothing but fried chicken before COVID hit. I had tinkered with a table deep fryer at home. A lot of fried chickens are all about the crust, the outside. But I think the taste comes from the chicken itself; I focused on the taste from within. From slaughter to soaking buttermilk. It's a fried chicken philosophy. I tried different spices and in the end I got a Ras el Hanout with 21 different spices including cardamom, nutmeg, ginger. It is wet-salted for three hours, double-dredged. I thought it was just going to be COVID comfort food, but it's now Nopa's # 2 best seller.
Q: # 1 is the burger? How much is it right now?
A: $ 24 with fries. We panicked when we first put a burger on the menu in 2006 – for $ 12. We thought: who pays $ 12 for a burger ?! Like bougie! But we said, look, we grind our meat every morning, and it's good meat, shoulder; We bake our own rolls, we pickle our own onions, we whip our own aioli, we cut our own french fries by hand, we grill them over wood – someone has to stack the wood. There is so much work behind it. Twenty percent of the people who come through the door get burgers. In 2019 we sold 38,000 burgers. That's a lot of burgers. And our burger is a lot of work. Maybe we should call it this: "A lot of F – working with cheese".
Q: Meat seems to be falling out of favor quickly lately. Worried about your burger?
A: No. It doesn't keep me up at night. Our burger will be good. But the fried chicken wins.
UPDATE: This story has been updated to reflect what Jeff Hanak said.
Rachel Levin is co-author of Eat Something and Steamed: A Catharsis Cookbook for Getting Dinner and Your Feelings on the Table, released by Running Press this month.