Moving
Will San Francisco's downtown shake off the pandemic blues?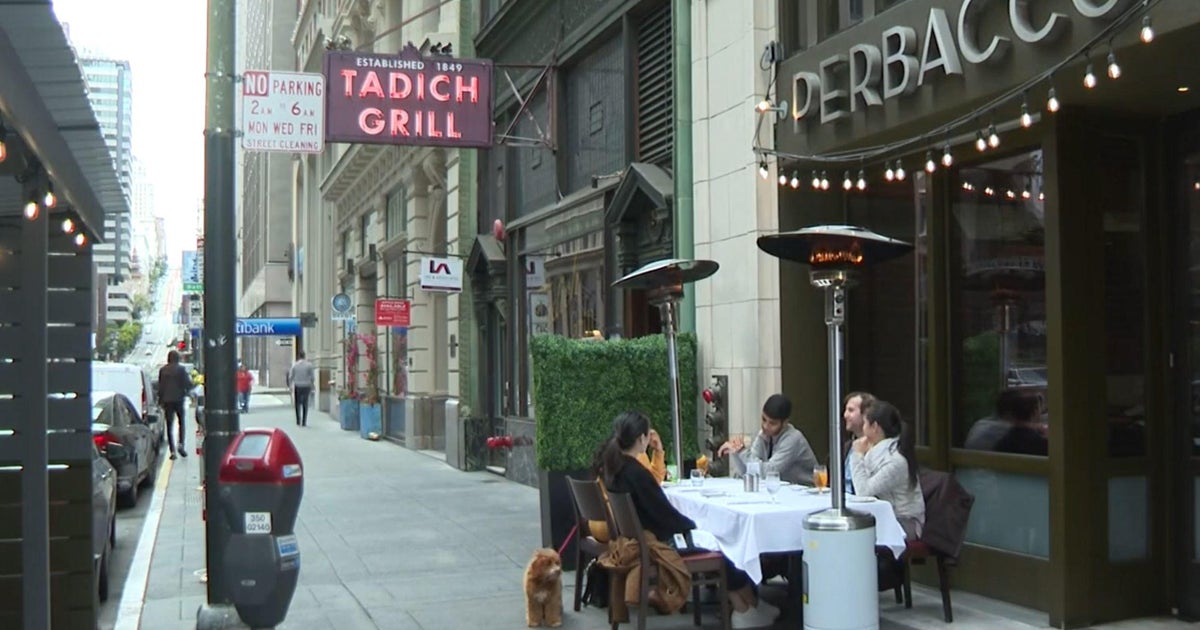 SAN FRANCISCO — Downtown shops and businesses play a vital role in boosting San Francisco's economy, but they've been slow to recover from the pandemic blues.
It's not a scenario shared by many inner cities across the country.
dr Karen Chapple is Professor Emeritus at UC Berkeley and Director of the School of Cities at the University of Toronto. She and a team of researchers run the Urban Displacement Project, which tracks how much activity takes place in inner cities. They analyze cell phone data, not just office vacancy rates, to compare current population patterns with pre-pandemic numbers.
"We look at everyone who comes downtown," she said. "If you have the right mix of industries, you're doing pretty well right now. But if you were too specialized, you could suffer."
Of the 62 cities they tracked, San Francisco consistently ranks at the bottom of the list when it comes to recreation.
"San Francisco was at 30% of its pre-pandemic activity as of March 16, 2020. March 2022, November 2022 still at 30% of its pre-pandemic activity," she said.
One reason Chapple points to is San Francisco's heavy reliance on the tech industry, whose workers largely left home early in the pandemic and have not made a robust return.
Jeffrey Woo, who owns Il Canto Cafe in San Francisco's Financial District, had to change his business model to adapt.
He took over the breakfast and lunch spot a few months before the pandemic, with plans to cater to the office mass at FiDi
"That was the plan," he said. "It was pretty crowded then. Now it's a different crowd."
Woo gets some face-to-face business but says he's focused on a lot of online and delivery app orders.
"It's gotten a lot better, but it's taking a long time," he said.
According to a CBS News analysis of San Francisco job trend data from the US Bureau of Economic Analysis from 2019 to 2021:
— Jobs in the lodging and hospitality industry fell 41%
— Wholesale jobs fell 25%
— Utilities jobs up 11%
— Information industry jobs up 9%
Looking at a chart showing the project's data, Chapple described San Francisco as "stuck."
CBS News Bay Area asked the Mayor of London Breed if she agreed with that assessment.
"San Francisco is not stuck. San Francisco is just different," she said.
Breed recently announced their "Roadmap to Downtown San Francisco's Future" which consists of 9 strategies and nearly 50 initiatives.
These are the strategies according to the plan:
1. Make sure downtown is clean, safe, and welcoming.
2. Attracting and retaining a wide range of industries and employers
3. Enable new uses and flexibility in buildings
4. Make it easier to start and grow a business
5. Grow and prepare our workforce
6. Transform Downtown into a premier destination for arts, culture and nightlife
7. Enhance public spaces to showcase downtown
8. Invest in transport links
9. Tell our story
"I think it's important to make sure there's a layered approach. There's not one thing that's going to bring our downtown back, it's going to be a number of things," Breed said. "And of course we need our legislature, the board of directors, as a partner in this effort. So we worked with members of the board of directors, worked with business people and developed solutions and strategies. "
Measures include tax breaks and initiatives aimed at creating incentives for companies to stay here and come here.
"Part of what I'm pushing for in some of my tax initiatives is that some of the existing companies delay changing the gross receipts tax so people's taxes don't double by June of this year," Breed said. "We're deferring that for another two years to try and encourage companies to stay with us, work with us, and continue in San Francisco."
"But for these new companies, we're saying, look, you're coming to San Francisco — three years. Three years you don't have to pay city taxes to get started and get started and grow your business. This is a way to generate interest in new businesses and help with many new startups and the diverse businesses looking to grow and thrive in our city."
Another part of their plan involves a change in downtown zoning to facilitate the conversion of office space into apartments.
"So we rezoned the entire downtown area so now we have the ability to convert without having to go through a lengthy year- or even two-year process to change a space's use," Breed said. "You can do this automatically through a simpler process that takes less time. That doesn't mean it happens automatically, but it's just an easier adjustment that takes less time."
The biggest challenge right now, Breed said, is public safety.
"We know this is a struggle and we know we need more officers because we are short of just over 500 police officers, not to mention the people who are leaving the department to go to other places as well as the people who are retiring," she said. "So we need to do something aggressive in terms of public safety to put things in a better place."
Another major challenge that she acknowledged?
"The other thing that's obviously very challenging is the cleanliness and road conditions in certain parts of the city where people are just frustrated," she said. "We are dedicating a lot of resources to cleaning up these areas. You can clean up the entire tenderloin in the morning where these teams are out there and then before 12:00 it looks like nothing ever happened."
"So we not only have to deal with the people that we have out there cleaning the streets, but also with the behavior and challenges of the people that are causing the problem in the first place."
We asked Breed what obstacles she expects to encounter as she tries to fulfill her roadmap.
"Well, I mean, the board of directors is — some of them can be quite challenging, and that's going to be a really heavy overhaul," she said. "For example, I presented the board with an additional budget of $27.6 million for the police, for overtime, but overtime to cover the bases."
"We have stations that are underutilized. To ensure we still turn in these shifts, we have to work overtime to cover the basic needs of our city. We have some board members who may or may not vote to support something like this."
Despite the challenges, Breed is optimistic about the future of San Francisco.
"We're moving forward, we're aggressive and we're going to make the city even better than ever," she said.
Back at Il Canto Café, Woo says unless things really improve downtown, he's not sure he can stay in business there.
"If I start hearing that the occupancy rate goes down to 10% or 5%, we're going to get pretty worried and have to move somewhere else," he said.
However, he has no plans to leave San Francisco.
"I grew up here since I was four years old," he said. "This is the right place."
Max Darrow