Home services
We analyzed 1.5 million San Francisco 311 calls to indicate how the pandemic modified metropolis residents' wants and complaints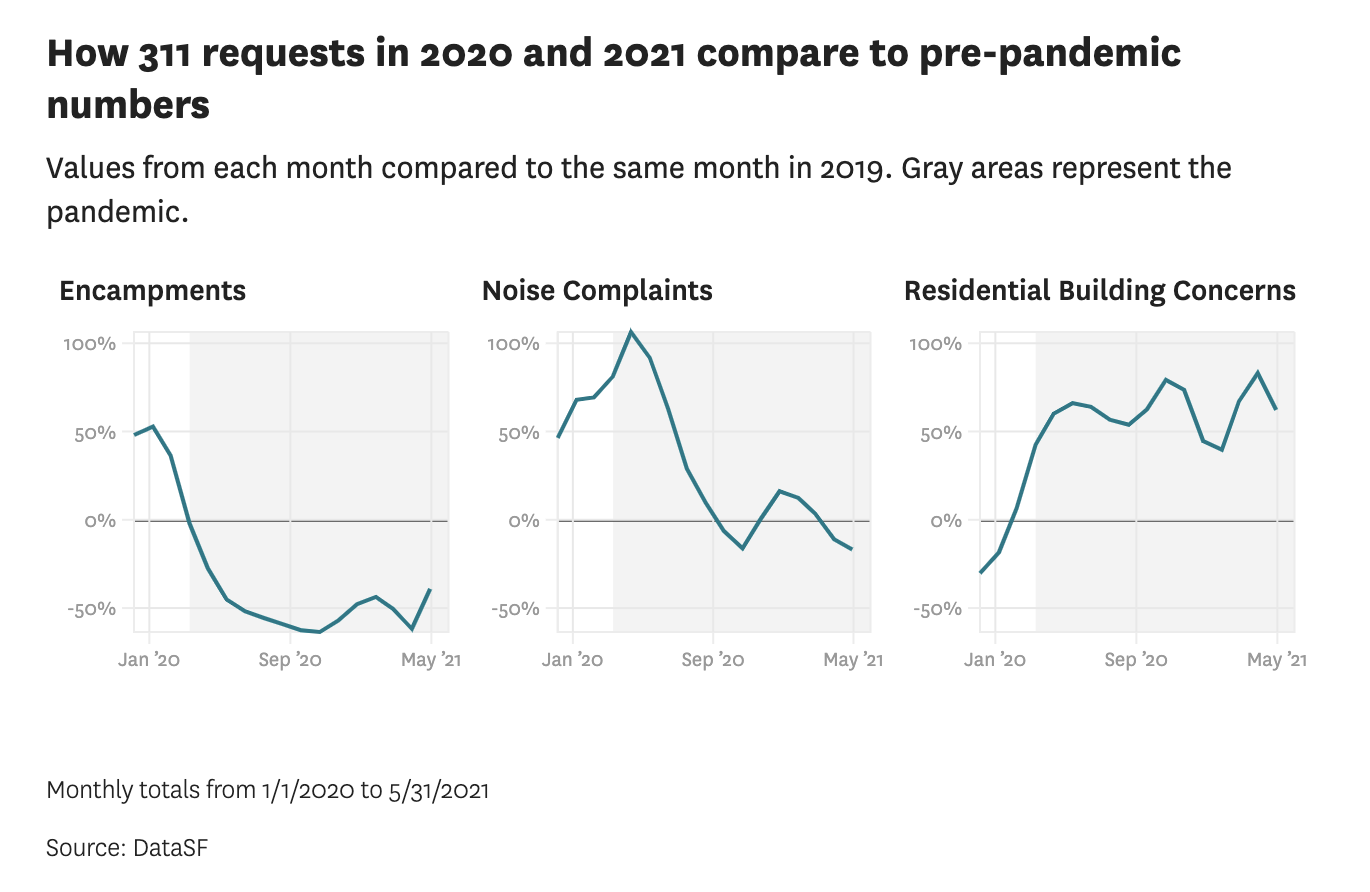 SF311, the San Francisco customer service center, handles hundreds of thousands of inquiries each year. People call 311 to request a variety of services from reporting graffiti to asking questions about new business registration. As residents' needs changed during the pandemic, their 311 requests also changed.
Chronicle data analysis of 311 cases shows that the total number of service requests decreased by only about 3% between 2019 and 2020, but the nature of the requests made changed dramatically. For example, noise complaints skyrocketed while calls to commute and care for the neighbors decreased.
With the pandemic making many San Franciscans work from home and staying within the norm, inquiries regarding transportation and the city's streets fell sharply in 2020 – the number of Muni feedback cases dropped 43% as the number of passengers and service requests related to sidewalk lights and road defects decreased.
As residents made fewer inquiries about issues that could affect their commute, service requests shifted to issues that affected them around the home. Noise reports rose by almost 50% and inquiries about residential buildings by almost 38%. As parks and grounds offered opportunities for safer socializing, recreational and park-related inquiries also increased by nearly 25%.
Some changes to 311 call types can be traced back to the city's coronavirus response. For example, inquiries regarding abandoned vehicles fell back on a recently lifted pandemic moratorium on the towing of criminal cars.
SF311 director Nancy Alfaro said a sharp drop in reports of homeless camps was due in part to public health orders to vacate tents, which followed the city's sleep guidelines.
Jennifer Friedenbach, the executive director of the Coalition for the Homeless, said the drop in camp reports could also be due to large numbers of storefronts and stores being closed, which could lead to fewer complaints. In addition, the data released by the mayor's office indicates that the number of tents and camps in the city decreased between April 2020 and April 2021, reflecting the city's focus on reducing the number of camps during the pandemic, according to Friedenbach.
The 311 data shows that the city is going back to normal in some ways in 2021. For example, noise complaints, which were twice as common in May 2020 as in May 2019, were back to their normal levels in May 2021.But other trends that started in 2020 continued through 2021, including a sustained increase in complaints about illegal signage and requests to clean streets and sidewalks.
Since the beginning of the pandemic, SF311 has also provided COVID-related information and answered more than 24,000 inquiries related to the availability of tests and over 16,000 inquiries related to vaccine distribution. Alfaro said the uncertainty of the pandemic underscored the importance of SF311 as a resource for the citizens of San Francisco and helped raise awareness of the services of 311.
"Many other offices also had staff working remotely so many of the public numbers were not answered," Alfaro said. "311 was really the one who was able to connect these callers to the appropriate departments to address their concerns."
Alfaro said no decisions had been made on how 311 might get back to personal work, but their goal is to continue serving San Francisco residents without disruption to service. In the future, she hopes that the awareness of 311's services will continue to improve.
"I think it's really important to educate people about our resources and remind them to call us regardless of their language," said Alfaro. "You will have a living person who is ready and willing to help in a polite and professional manner."
David Deloso is a news developer for the San Francisco Chronicle. Email: david.deloso@sfchronicle.com Twitter: @DavidMDeloso