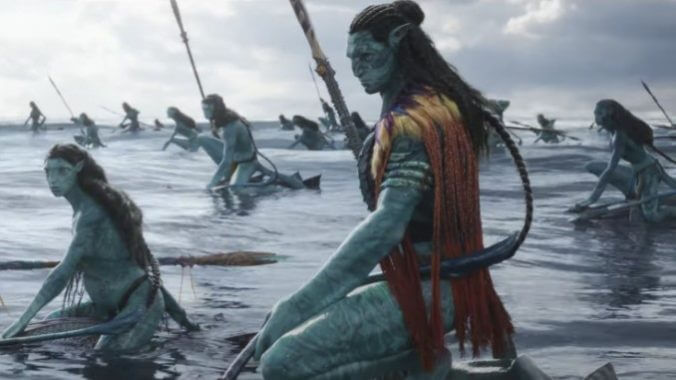 Last year James Cameron was once again king of the world, at least when it came to global box office. Avatar: Way of the Water didn't reach the heights of its predecessor, but it's sold enough tickets to make it the top-grossing film among 2022 releases, and the fourth top-grossing film of all time. Domestically, Tom Cruise's return as Capt. Pete "Maverick" Mitchell took the top spot with $718 million in U.S. ticket sales, but came in second worldwide.
Those were not the only sequel to put audiences in theater seats—the top nine films on this list were either sequels or reboots; only the Chinese sci-fi comedy Moon Man bucked that trend.
If you want the best movies of 2022, go here, but if you want to know what the biggest films of the year were, here are the 10 highest-grossing movies of 2022 across the globe.
10. Moon Man
Box office: $627 million
Director: Zhang Chiyu
Stars: Shen Teng, Ma Li
Not released in the U.S.
This Chinese futuristic sci-fi comedy about the aftermath of an asteroid wiping out all life on Earth is an adaptation of Cho Seok's webcomic series Moon You. Shen Teng stars as a taikonaut stranded on the moon who thinks he's the last human in the universe, but others have survived the destruction and can watch him on his station's surveillance video feeds, including his squabbles with a kangaroo that had been left behind on the station.
9. Water Gate Bridge (The Battle at Lake Changin II)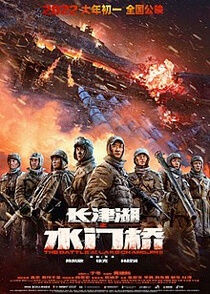 Box office: $627 million
Director: Chen Kaige, Tsui Hark, Dante Lam
Stars: Wu Jing, Jackson Yee, Duan Yihong, Zhang Hanyu
Not released in the U.S.
Commissioned by the Chinese Communist Party's propaganda department, Water Gate Bridge is a sequel to 2021's The Battle at Lake Changjin and recounts the Chinese People's Volunteer Army's battles with U.S. troops during the Korean War. Almost all of the $627 million the film has grossed has been inside China.
8. Thor: Love and Thunder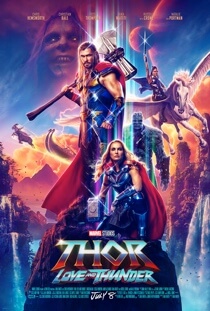 Box office: $761 million
Director: Taika Waititi
Stars: Chris Hemsworth, Christian Bale, Tessa Thompson, Jaimie Alexander, Taika Waititi, Russell Crowe, Natalie Portman
Rating: PG-13
Watch on Disney+
Love and Thunder may take place after the Snap that ended the threat of a Snap that would undo the Snap that undid the original Snap, but the franchise's fourth installment (and Hemsworth's eighth turn as Thor Odinson) nonetheless feels as close to "Original Recipe" MCU as audiences are likely to get for a while. The tonal refresh of Ragnarok also goes a long way in explaining why, amongst a Phase 4 featuring movie-length baton exchanges, C-list headliners and super teams, and a multitude of multiverses, Love and Thunder is the first that doesn't feel expressly handicapped by flaws stemming from sacrifices made to set up and get aloft the post-Endgame MCU. Granted, Waititi's brand of "no riff unjuiced" comedy generates some flaws of its own, but it remains a potent antidote to the often dark, dour and dire storylines found in the source material. Much as with Ragnarok, Love and Thunder has no shortage of spectacle, and mostly maintains a strict no-plodding policy in terms of pacing. Unlike in the comics, the origin and identity of the new Thor is immediately obvious to viewers and characters alike, allowing writers Waititi and Jennifer Kaytin Robinson to move straight to a barrage of relationship jokes revolving around … Mjolnir and Stormbreaker (which, in the Waititi-verse, feels inevitable). But unlike Ragnarok, in which Waititi's disruptive playfulness felt mostly harnessed and in proper proportion to the scale of the events unfolding (and by both the scene-chewing and ensemble work of the larger cast), Love and Thunder's story is prone to extra beats (bleats?) and extended riffs meant to fill the spaces left otherwise unoccupied by absent Hulks, Lokis, Helas, Grandmasters, Skurges and the like. This results in moments that feel off—like the light banter in the immediate (and perhaps still ongoing!) kidnapping of children—or just over-stretched—like the introduction and visit to Omnipotence City. (Blame the source material for that "unobtainium"-level name.) The result is a movie significantly more flawed than its franchise predecessor yet more fun than anything we've seen in Phase 4 thus far.—Michael Burgin
7. The Batman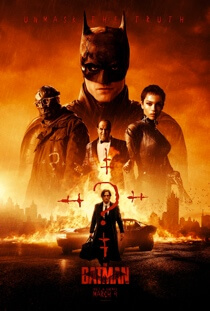 Box office: $771 million
Director: Matt Reeves
Stars: Robert Pattinson, Zoë Kravitz, Paul Dano, Jeffrey Wright, John Turturro, Peter Sarsgaard, Jayme Lawson, Andy Serkis, Colin Farrell
Rating: PG-13
Watch on HBO Max
The evolution of Batman's dark screen presence has finally reached the place where he's able to fade into the shadows completely. Tim Burton's take on Batman was brooding, fetishistic and deeply weird. Christopher Nolan's was brutal, techy and paranoid. Zack Snyder's was weathered, faithless and cruel. And now Matt Reeves' The Batman is dour and wounded, the newly cowled hero's adolescent attempts at heroism undermined by sullen single-mindedness. He's not yet an action figure, but not quite a human. He's in over his head, stuck in a nearly three-hour detective story that overvalues both realism and style—a movie with plenty of good ideas about how it could tell a Batman story, but one that stitches them together in a way that leaves you wondering how it got those scars. Its Batman nearly dissolves into the night, overwhelmed by and acquiescent to his film's own noirish ambitions. The Batman's crime story—of mob bosses like Carmine Falcone (John Turturro), crooked cops and serial killers—echolocates its tone somewhere between "Ave Maria" and "Something in the Way," propelled by a Michael Giacchino theme as slow and percussive as the plodding, metallic footsteps of Robert Pattinson's clunky, inevitable advance. His Bruce Wayne calls himself vengeance, a big title for a guy in his second year of fighting crime. But a corner of Gotham knows him already. When we're introduced to the movie, in the film's best sequence, Batman's reputation lurks in every shadow. We're made to understand what will eventually come to define the character: Batman is your own guilty fear, reflected back at you from the void. The Batman is ambitious and dedicated to its vision, but despite some rather obvious clues, it can't crack how to make the World's Greatest Detective seem like one at all. Rather, we just have another passable Batman, not different enough to outrun his legacy's ever-growing shadow. —Jacob Oller
6. Black Panther: Wakanda Forever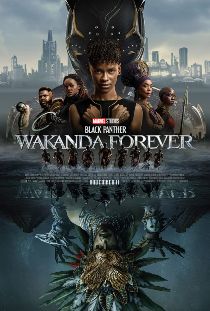 Box office: $843 million
Director: Ryan Coogler
Stars: Letitia Wright, Lupita Nyong'o, Danai Gurira, Winston Duke, Florence Kasumba, Dominique Thorne, Michaela Coel, Tenoch Huerta, Martin Freeman, Angela Bassett
Rating: PG-13
Watch on Disney+

Black Panther: Wakanda Forever boasts the same director in Ryan Coogler (and the same writing team of Coogler and Joe Robert Cole), who have again created a story whose conflicts and character arcs go deeper than the average MCU fare. Of equal importance, Wakanda Forever again features the Oscar-winning talents of Hannah Beachler (production design) and Ruth E. Carter (costume design). Wakanda remains a vividly realized Afrofuturist cityscape (even in mourning), and the MCU's newest kingdom, Talokan, though markedly less flashy than James Wan's Atlantis in Aquaman, feels as real and wondrous as a fictitious Aztec/Mayan underwater realm should. The cast is mostly the same, with Michael B. Jordan's scene-stealing antagonist Erik Killmonger replaced by Tenoch Huerta's similarly compelling and cleverly reimagined anti-hero Namor (who is much more integral to Marvel Comics—and likely the MCU—than Killmonger). But how keen the loss contained in that word—"mostly." Chadwick Boseman's portrayal of T'Challa was a magical piece of casting alchemy on par with Chris Evans' Steve Rogers. Coogler confronts the loss directly in Wakanda Forever in a beautiful opening tribute to both actor and character. T'Challa's funeral is a reminder of just how strong the cast is overall, providing Angela Bassett, Letitia Wright and Danai Gurira some grief-themed scene-chewing of their own. Where Thor: Love and Thunder felt like a lighter, sloppier version of its predecessor, Wakanda Forever feels like a well-considered, necessary next step for a franchise rocked by loss. It's a tad overstuffed—an entire sub-plot involving Everett Ross (Martin Freeman) feels more like Feige fiat to ensure certain characters and developments are sufficiently presaged—but that only serves as a reminder of the fine line between "laying groundwork" and overpacking. Despite the daunting challenge faced by Coogler and his team, Black Panther: Wakanda Forever feels like the surest step taken in the MCU since Thanos was reduced to ash. It's both an impressive achievement and a promising development, especially when considers the strong comic book connections between Namor, mutants (he is one), and a certain fantastic foursome on the MCU horizon.—Michael Burgin
5. Minions: The Rise of Gru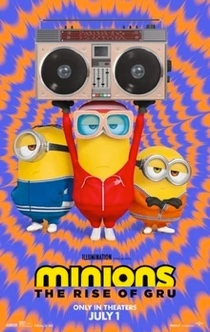 Box office: $940 million
Director: Kyle Balda
Stars: Steve Carell, Pierre Coffin, Taraji P. Henson, Michelle Yeoh, RZA, Jean-Claude Van Damme, Lucy Lawless, Russell Brand, Julie Andrews, Dolph Lundgren, Danny Trejo, Alan Arkin
Rating: PG
Watch on Netflix
By now we've grown used to animated films possessing a million cuts per minute, wall-to-wall sound design and non-stop frenetic energy. But The Rise of Gru's hysteria is simply on another level. Directed by Kyle Balda, the fifth entry in the beloved Despicable Me franchise tracks the exhausting origin story of supervillain Gru (Steve Carell). What kicks this adventure into action is Gru's decision to apply for the Vicious 6, the most badass villain supergroup since the Crime Syndicate of America. But the doe-eyed 12-year-old is quickly shut down by Belle Bottom (Taraji P. Henson), the fiery leader of the squad, who tells Gru to come back when he can really impress her. So, the young scoundrel does what any good aspiring villain would do, stealing the priceless Zodiac Stone from the Vicious 6's lair. The remainder of the film sees Gru flee from the Vicious 6, while his faithful little Minions do everything in their power to bring their "little boss" back; and yes, you can bet they run into quite a few obstacles along the way! There's kung-fu, there's San Francisco and there's a man-lobster hybrid, in addition to just about anything else the creators want to stick in there, no matter how much they have to disfigure the story to make that happen. While a lot of this stuff is undeniably enjoyable, it also resembles a frenzied fever dream. After watching Gru, I felt as though I was finally starting to get a grasp on our society's bizarre infatuation with Minions. Not only are they incredibly sweet and loyal in a genuinely touching way, but their strange little mushy bodies lend themselves well to physical comedy. One of the Minions gets his goggles embedded in his face during a kung fu stunt, and when he pops them back out, it's ASMR-level satisfying. The purpose of the Minions may be that they are the epitome of visual comfort, sort of like those mildly eerie baby sensory videos. This, paired with its irrefutable sweetness, sometimes makes Gru worth watching. Yes, it veers on a total frenzied nightmare at times. But hey, what did you really expect from another Minions movie? —Aurora Amidon
4. Doctor Strange in the Multiverse of Madness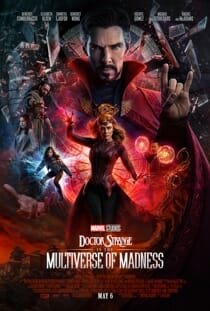 Box office: $956 million
Director: Sam Raimi
Starring: Benedict Cumberbatch, Elizabeth Olsen, Chiwetel Ejiofor, Benedict Wong, Xochitl Gomez, Michael Stuhlbarg, Rachel McAdams
Genre: Action, Adventure
Rating: PG-13
Watch on Disney+
Marvel still has a lot to figure out with how it handles its women, but it's getting the multiverse idea under its feet. Doctor Strange in the Multiverse of Madness starts its fast-paced but forgettable first act with dialogue that could be improved by a middle schooler before giving way to an emotional Elizabeth Olsen performance that holds down some eye-roll-inducing lines about motherhood, ridiculous cameos as plot conduits, and horror cinematography, sound and direction bouncing captivatingly between the grotesque and comical. Despite boring opening salvos that reminded me why so many people have grown hateful of the Marvel movies, Doctor Strange in the Multiverse of Madness eventually becomes very fun to watch. It's weird that so many Sam Raimi fans were hoping for a return to his horror auteur form considering (1) we've seen a bunch of skilled indie filmmakers squish their vision into the Marvel frame for a big paycheck and (2) Raimi is known to the wider film-watching public as the guy that made the original Spider-Man trilogy. It's weirder still that the horror fans were kinda right to be hopeful: The second and third acts are full of horror imagery, jump scares and a Bruce Campbell cameo (and fellow Raimi collaborator Danny Elfman does the score). One of my favorite things about the first Doctor Strange was that the introduction of magic into the MCU meant exciting psychedelic visuals. Multiverse of Madness alternates between being comparatively rudimentary and going past the original into the macabre. Unfortunately, as with all Marvel movies, the director must square their vision with the circle of Kevin Feige's machine. There are a lot of cool moments, but a lot of the flaws are derived from needing to set up a new superhero and connect to two or three or 20 movies. Opening with heavy CG that the actors aren't interacting with in a way that's legible as any kind of tangible space makes it hard to accept the movie. It's less interesting. Too much time and money was spent on designing those FX monsters for me to come away thinking about how they could have gotten more out of the opening scenes by instead setting them in a series of dark rooms. Doctor Strange in the Multiverse of Madness will surely be a commercial success, but it could have been more artistically satisfying if it wasn't weighed down by the need to remind people of its outward connections. It stands better on its own than No Way Home but it's still relying on early '00s Fox movies and internet fan castings for theatrical audience pops. Doctor Strange in the Multiverse of Madness is everything you could reasonably expect from a Sam Raimi-Kevin Feige collaboration, but not much more.—Kevin Fox, Jr.
3. Jurassic World: Dominion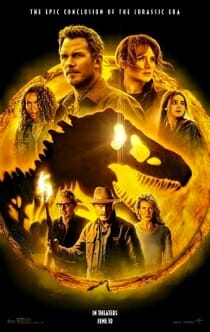 Box office: $1 billion
Director: Colin Trevorrow
Starring: Chris Pratt, Bryce Dallas Howard, Laura Dern, Jeff Goldblum, Sam Neill, BD Wong, Omar Sy, Isabella Sermon, Justice Smith
Rating: PG-13
Watch on Peacock
If I had a kid who loved dinosaurs and who I hated, I would take them to see Jurassic World Dominion, because it makes dinosaurs so deeply uncool. Four years after the absurd "dinos are free and they're everywhere" ending of J.A. Bayona's Fallen Kingdom (which at least composed some frames that weren't people standing around), the resurrected reptiles have lost their luster in the public eye. They're mostly a morning news curiosity; they affect stock prices and fill segments about tragic deaths. Big Tech Bad Guy's company, Biosyn Genetics, has been awarded sole control (by some never-mentioned, nonexistent global governing organization, I guess) over dino-research. Naturally, their greedy monopoly threatens the world, mostly through their creation of mega-locusts. The rest of the World regulars only factor into this Sharknado-like plot because of a separate, non-dinosaur McGuffin: Maisie Lockwood (Isabella Sermon), a character just as dull as the rest of her companions despite being the first human clone, is kidnapped by a hilariously evil, leather-trenchcoated Biosyn lackey. That means her surrogate parents Owen Grady (Chris Pratt)—who?—and Claire Dearing (Bryce Dallas Howard)—seriously, who?—are off on a globe-trotting rescue mission. Dominion's first act zips us around the world, visiting flapping loose ends and catching up with characters who, three movies in, it feels like we haven't even met. While Trevorrow waits until the final chunk of his film's excruciating 146 minutes to display pilfered, mutated visual elements of Steven Spielberg's original—and yes, Trevorrow and Carmichael's tortured subplots and Universal's juicy paychecks conspire to reunite Ellie Sattler (Laura Dern), Alan Grant (Sam Neill) and Ian Malcolm (Jeff Goldblum)—Dominion first must generically riff on Raiders of the Lost Ark. In its zeitgeisty quest to unite the Jurassic generations, optimizing its IP-per-second usage, it becomes a product created by its own corporate villain. The Jurassic stories have always been Frankenstein riffs, where humans are punished for playing God. But Trevorrow brazenly engineers his own artless, profit-hungry, overstuffed monstrosity, his thoughtless hubris free to walk the earth as a misshapen, soulless slight against its source. —Jacob Oller
2. Top Gun: Maverick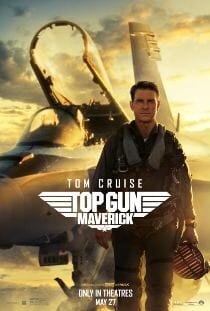 Box office: $1.49 billion
Director: Joseph Kosinski
Stars: Tom Cruise, Jenifer Connelly, Miles Teller, Jon Hamm, Monica Barbaro, Ed Harris, Val Kilmer, Jay Ellis, Glen Powell, Lewis Pullman, Danny Ramirez, Greg "Tarzan" Davis
Rating: PG-13
Watch on Paramount+
Not quite four years since Mission: Impossible—Fallout and much of Tom Cruise's purpose remains the same—if it hasn't exactly grown in religious fervor. In Top Gun: Maverick, the sequel to Tony Scott's 1986 original, Cruise is Captain Pete "Maverick" Mitchell, a man trapped in the past, refusing to advance his career as resolutely as he refuses to do much of anything besides continue to prove he's the greatest pilot in the world—a title the film never forgets to remind the audience that Maverick earned long ago—and mourn his best friend, Goose (Anthony Edwards), who died 35 years ago in an accident for which Maverick still feels responsible. Tom Cruise is also, simply, "Tom Cruise," the only notable show business scion left to throw his body into mind-numbing danger to prove that it can be done, to show a younger generation that this is what movies can be, what superstars can do. Must do. The more modern action films teem with synthetic bodies bursting apart at the synthetic seams, the more Tom Cruise builds his films as alters upon which to splay his beautiful sacrificed flesh. To that end, Joseph Kosinski is the precisely correct director to steer Cruise's legacy sequel. As was the case with Kosinski's Tron: Legacy, Maverick seems to exist to justify its existence, to update an IP that seems to only work in the past. For Top Gun this means translating Scott's vision of sweat-drenched beach volleyball and unmitigated military spectacle into a soberer IMAX adventure, moving from the halcyon days of Reagan's America to a world with no more need of a man like Maverick. "The future's coming, and you're not in it," he's told; every one of his superior officers appears to have no patience for him left. One can't help but imagine that every new Tom Cruise vehicle is a way for him to reckon with that. Kosinski's dogfights are pristine, incredible feats of filmmaking, economical and orbiting around recognizable space, but given to occasional, inexplicable shocks of pure chaos. Then quickly cohering again. If Scott's action was a melange of motion never meant to fully cohere, keeping the American dream just that, then Kosinski is dedicated to allowing the audience a way into the experience. With his regular cinematographer Claudio Miranda, he revels in symmetry to keep the audience tethered. A wide glimpse of a dogfight in total, resembling a beach scene earlier, so suddenly appeared silently in the vast theater and unlike anything I'd ever really seen before, I gasped.—Dom Sinacola
1. Avatar: The Way of Water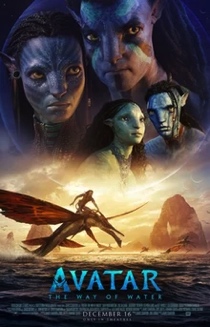 Box office: $2.21 billion
Director: James Cameron
Stars: Sam Worthington, Zoe Saldana, Sigourney Weaver, Stephen Lang, Jamie Flatters, Britain Dalton, Trinity Bliss, Kate Winslet, Cliff Curtis, Edie Falco, Jack Champion, Jemaine Clement, Joel David Moore, Brendan Cowell, CCH Pounder
Rating: PG-13
Only in theaters
Avatar: The Way of Water is a promise—like the titular Way as described by a beatific, finned Na'vi fish-people princess, the film connects all things: the past and the future; cinema as a generational ideal and one film's world-uniting box office reality; James Cameron's megalomania and his justification for Being Like That; one audience member and another audience member on the other side of the world; one archetypal cliché and another archetypal cliché; dreams and waking life. Avatar's sequel can be nothing less than a delivery on everything Cameron has said, hyperbolic or not, he would deliver. What's less clear is exactly what Cameron's intending to deliver. The Way of Water's story is a bare bones lesson in appealing to as many worldwide markets as possible, the continuation of the adventures of Bostonian Jake Sully (Sam Worthington, who's spent the past decade trying not to sound like an outback chimney sweep) as he raises a Na'vi family with like-warrior-minded Neytiri (Zoe Saldaña, screaming from inside her golden prison) and realizes that Earthlings aren't going to stop colonizing Pandora just because they had their shit kicked in a lifetime ago. The Way of Water's true achievement is that it looks like nothing else but the first Avatar, unparalleled in detail and scale, a devouring enterprise all to itself. Watching The Way of Water can at times feel astonishing, as if the brain gapes at the sheer amount of physical data present in every frame, incapable of consuming it, but longing to keep up. No film will ever be this beautiful in my lifetime, at least until the next Avatar.—Dom Sinacola