Moving
Stalled San Francisco grocery retailer sparks questions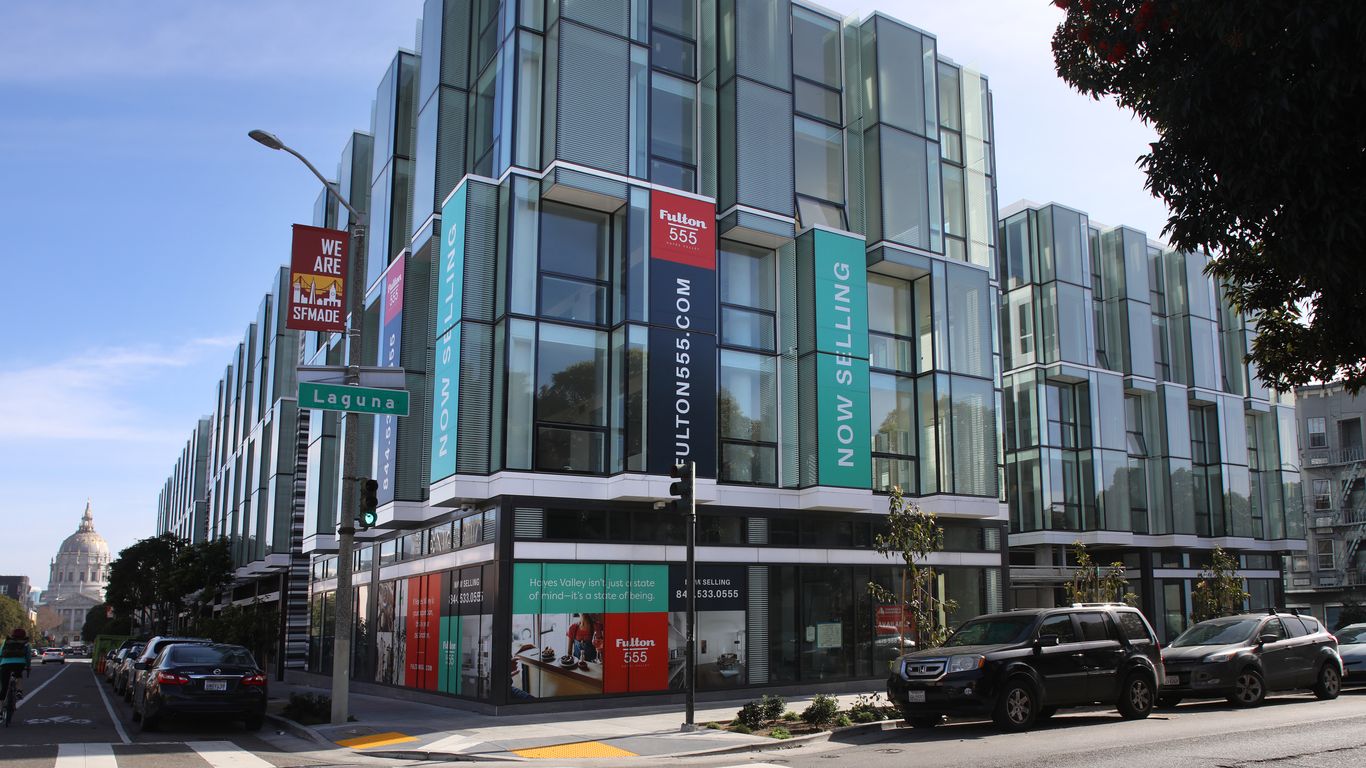 Outside the 555 Fulton Street apartment complex. Photo: Liz Hafalia/The San Francisco Chronicle via Getty Images
The bottom floor of a Hayes Valley condo complex slated to house Trader Joe's grocery store remains empty, and city officials are beginning to wonder why.
What's up: Supervisor Dean Preston this week called on the board to investigate the stalled project at 555 Fulton Street, which was due to be completed earlier this year.
Why it matters: The inclusion of an affordable grocery store was one of the top demands from neighbors when the 139-unit condominium building received approval some 15 years ago, reports the Chronicle.
The addition also allowed the developers to expand the scope of the project and build more units.
What you say: "If there are legitimate reasons not to move forward, let's hear them. But a delay without a public explanation is unacceptable," Preston said in a written statement. "This slot has been empty for too long and we want it activated."
Flashback: Portland-based grocer New Seasons was originally scheduled to occupy the 29,000-square-foot space, but canceled its lease in 2018.
Remarkable: The local neighborhood association has accused the project's developer, Z&L Properties, of dragging out costly updates that need to be completed before Trader Joe's can move in, reports the SF Standard.
The Intrigue: Z&L Properties is partially owned by real estate billionaire Zhang Li, who was arrested last year on a warrant accusing him of bribing San Francisco officials to get building permits.
Mission Local reported that Zhang and the 555 Fulton Street project were at the center of the corruption case that led to the seven-year sentence of former public works director Mohammed Nuru.
Z&L also owns a 109-unit condominium complex in Hayes Valley on Oak Street that was completed over two years ago but is mysteriously vacant.
What's next: Preston said he wants a hearing on the stalled Trader Joes next month.