Home services
San Francisco's Tenderloin middle will shut in December as funding dries up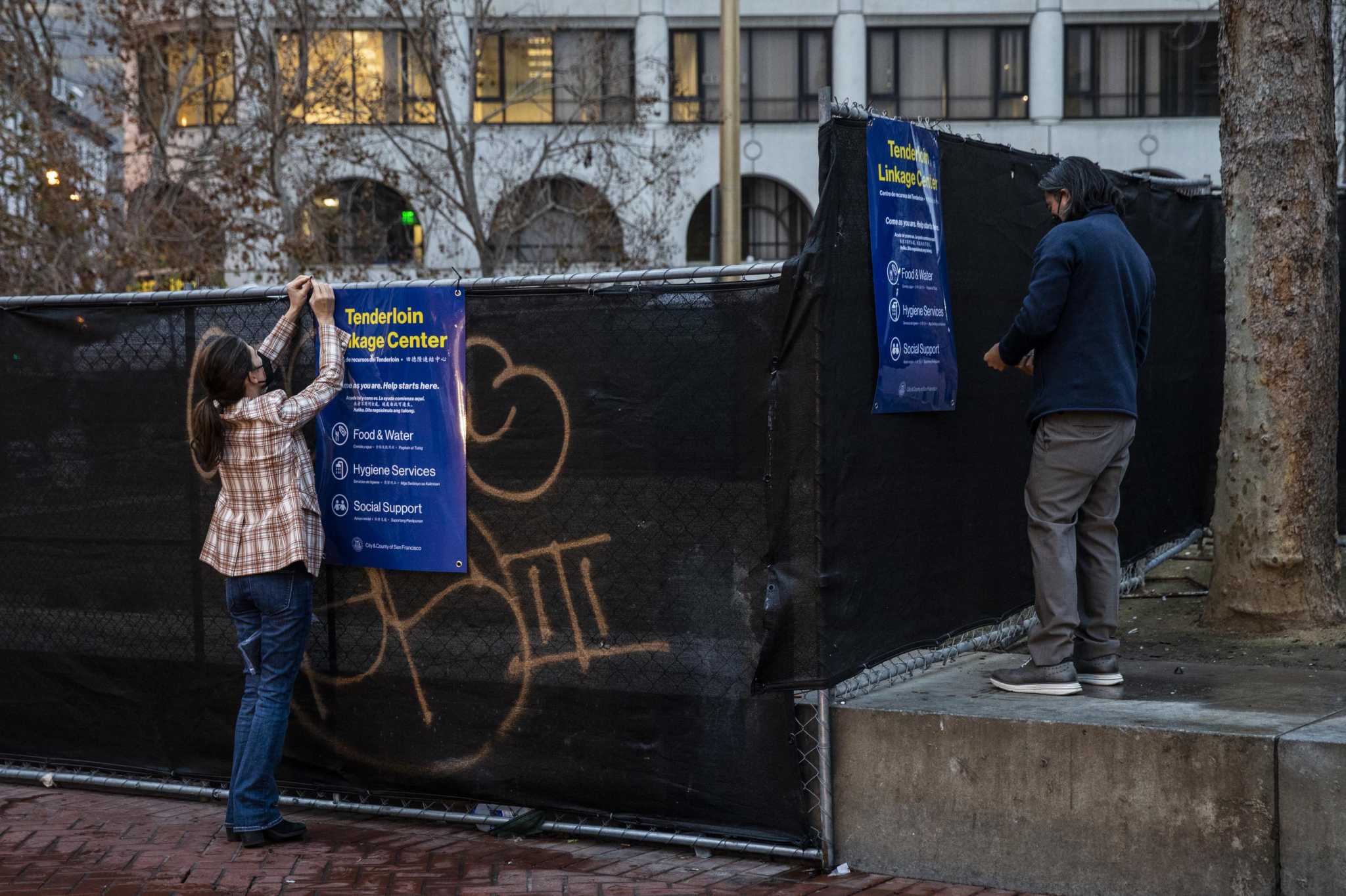 San Francisco's Tenderloin Center, a building at UN Plaza where people on the streets can drop in and receive basic services, including connections to substance abuse treatment and housing, will close in December.
Conceived as a centerpiece of Breed's state-of-emergency initiatives in the Tenderloin, the center opened in January as a safe harbor for homeless people and part of the emergency's push to deal with skyrocketing overdoses. City officials used emergency powers to bypass the city's typical contracting process and quickly secured a lease for the building, while Breed announced efforts to crack down on drug dealing in the neighborhood.
But the center met resistance early on after it came to light that the city allowed people to use drugs there. Critics argued that it enabled addiction and that very few people were connected to drug treatment through the site.
The news that the center will shutter in December comes at a fraught moment. Breed and the supervisors are hammering out a nearly $14 billion budget and must decide where to put resources to address some of the city's most vexing problems, including homelessness, mental health and addiction.
Weeks ago, the supervisors voted to extend the center's lease from June through the end of the year. And in early June the health department allowed the media, which had been shut out of the center, to finally tour it.
Breed spokesperson Parisa Safarzadeh described the center in a statement as an "immediate intervention to stabilize the community in the short term while the city developed its longer term plans for the tenderloin."
"The declaration of emergency enabled the city to quickly launch a service center as a safe respite from the streets," Safarzadeh said.
While it was framed as a temporary solution to a chronic problem, the center appears to operate at high volume, serving about 400 people each day at its fenced-in site, according to Safarzadeh.
"We reversed overdoses — we saved people's lives," Vitka Eisen, CEO of HealthRight 360, a nonprofit partner helping operating the center, said of her staff's work.
"It doesn't make sense to me that we would close one program without opening others," she said.
Whether the center was cost-effective is difficult to know. In its first five months, workers logged more than 49,000 visits, but just 53 connections to substance-use treatment. The center has also made 900 placements into shelters and 150 placements into permanent supportive housing. Operating the center for the next six months will cost $10.6 million, though city officials haven't in the past been able to say how much the first six months of operation cost.
Community organizer Del Seymour, founder of the workforce nonprofit Code Tenderloin, a partner in the center, is disappointed it will close.
Seymour said his organization has hired at least 40 people referred by the center's case managers.
"Nobody ever said the word 'permanent,' and we understand that," he said. "But now we're seeing successes. So why give somebody something and then take it away?"
He said the site's central location may have triggered resistance.
A new apartment tower and Whole Foods Market just opened in Mid-Market, signaling the possible turnaround of an area where businesses have long struggled with drug use outside their doorsteps. With more investment starting to pour into downtown, Seymour said he wouldn't be surprised if complaints are piling up about the center. Seymour would like to see the concept continued but moved elsewhere.
Sara Shortt, a representative of the Treatment on Demand Coalition, also supported the model and methods of the center but questioned the execution. She remembered the bravado with which Breed announced her package of programs to clean up the Tenderloin and Civic Center.
Shortt wondered whether the city had just found an available space in UN Plaza — albeit one with a $75,000 a month rent payment — and "just jumped on it."
"This was all done in a 'grand gesture' kind of way," Shortt said. "For the mayor to just pull out of it at this point," with no alternative for people who clearly rely on the services, "reinforces that it was perhaps only that — a gesture." She worried the mayor, who is facing pressure to reinvigorate the local economy, may have buckled to neighborhood complaints.
Yet Breed's spokesperson Jeff Cretan said residents' misgivings never factored into the city's decision to pull the plug. Officials anticipated strong feelings on all sides from the moment they announced the center, he said, which hasn't stopped the city from methodically testing solutions.
The tenderloin emergency also added social workers and outreach staff to coax people into treatment. Breed has also publicly pushed for supervised drug consumption sites, a controversial strategy to alleviate the overdose crisis that has widespread political support in San Francisco.
Although the city's behavioral health budget has enough money to support such sites, they are not sanctioned by the state or federal government and may face legal hurdles.
Supervisor Matt Dorsey, whose district spreads through downtown and the South of Market area, said Thursday that he needed more information before weighing in on the upcoming closure of the center, which is not in his district but is close to it.
Dorsey announced a plan this week for police to prioritize arresting drug dealers and seizing illegal drugs in areas where people are seeking help with addiction — such as outside a treatment center — that was partially inspired by neighborhood disenchantment when the city unveiled the center in UN Plaza .
He presented the plan as part of a "right to recovery" initiative intended to stave off overdose deaths and despair caused by fentanyl.
Residents and merchants "are going to be justifiably suspicious of anything we're doing to encourage open air drug scenes and brazen drug dealing," Dorsey said, standing at a parking lot near Sixth and Market streets on Thursday, where he'd attended the mayor's press conference to announce a new housing ballot measure.
After speaking at the event, Breed declined to answer questions from reporters.
Despite city officials' repeated assurances that they are pursuing a viable long-term plan to curb drug use, Eisen of HealthRight 360 said she scoured the budget for any alternative programs, and found nothing. She worries for the hundreds of people who rely on the center each day for everything from work referrals to overdose treatment to cell phone chargers. The demand, she said, is clear.
San Francisco Chronicle staff writer JD Morris contributed to this report.
Editor's note: This story has been updated with the correct spelling of Sara Shortt's name.
Rachel Swan is a San Francisco Chronicle staff writer. Email: rswan@sfchronicle.com Twitter: @rachelswan