HVAC
San Francisco, Oakland marchers maintain mock funerals for public transit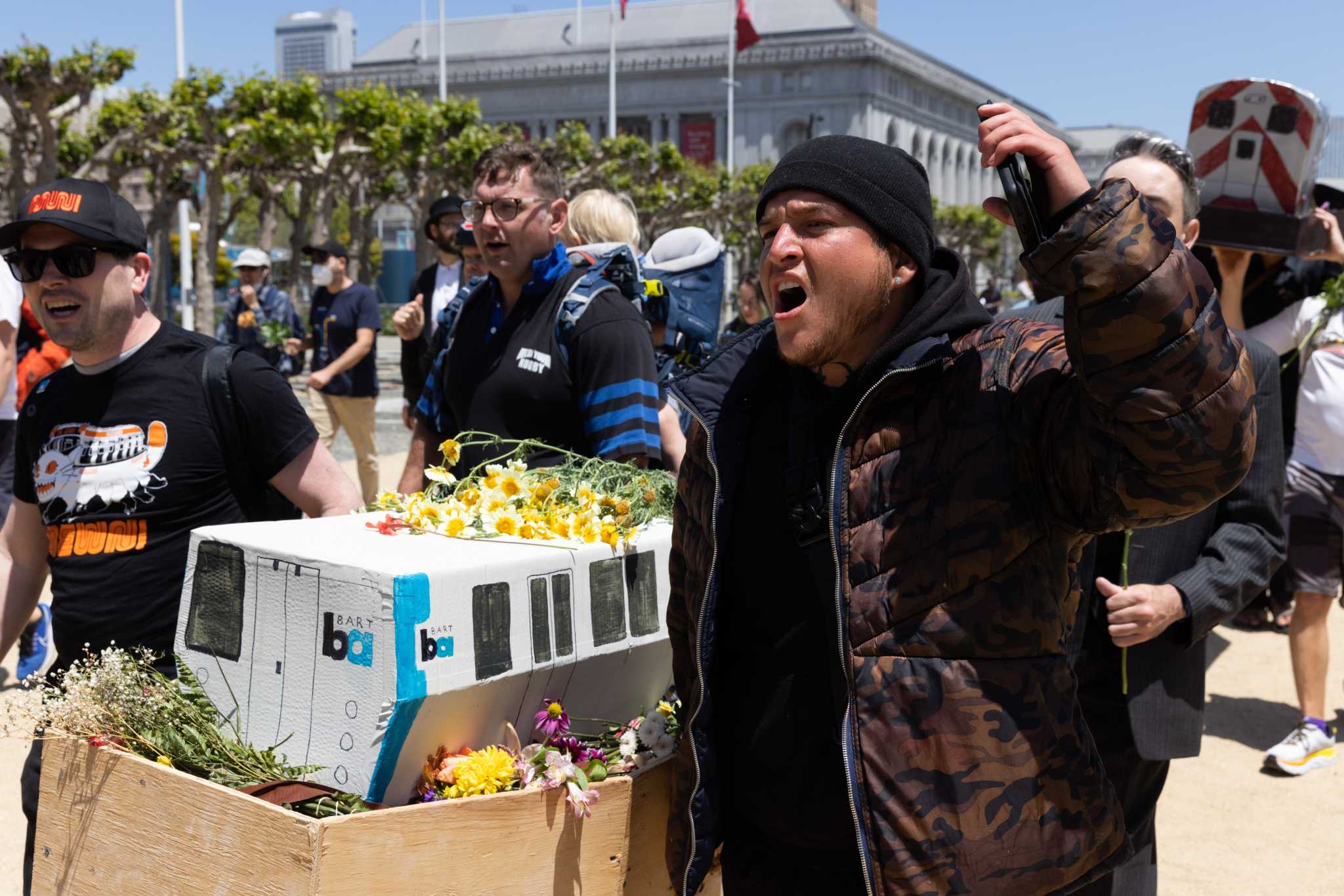 Considering that each procession was attended by pallbearers carrying flower-strewn coffins, the public transit funeral marches held in San Francisco and Oakland on Saturday had a decidedly celebratory atmosphere.
A brass quartet belted out "Amazing Grace" on Market Street. Oakland protesters energetically shouted "Gavin Newsom!" and responded. "Finance the bus!" The march in San Francisco was led by a man wearing a black suit and a long top hat.
"The call went out that we needed a little street theater and I said 'sure,'" said Josh Kelly of San Francisco, who describes himself as a "safe roads and transit justice organizer" since my kids are small and I participate she had to go to school via Geary (boulevard)."
What drew Kelly, wearing the top hat, and more than 200 public transit advocates to rallies on both sides of the bay was a desire to increase Sacramento's chances of receiving a $5 billion grant in the upcoming federal budget for local public transport. That money, spread over five years, would help cover operating deficits for systems like BART, Muni and AC Transit.
Public transit advocates march near City Hall during a fake funeral for public transit in San Francisco on Saturday, June 3, 2023. Video: Benjamin Fanjoy special on The Chronicle
Without them, operators and advocates warn, systems will have to cancel some routes and cut service on others – undermining progress in increasing ridership on buses and trains that have been paralyzed by the COVID-19 pandemic in 2020.
The state budget for 2023-2024 must be approved this month. Governor Gavin Newsom does not include a public transportation bailout in his proposed budget, citing the need to close a government funding gap estimated at $31 billion.
This short-term step would have long-term effects, speakers warned on Saturday.
"It's so much easier to keep what we have than to restore it later," said Jaime Viloria, a Tenderloin resident who was a speaker at the rally at Civic Center Plaza that followed the march down Market Street introduced. "We need the bridge funding" to maintain current service levels until a long-term solution is found, such as a regional transit tax.
A pro-transit group marches on Market Street in San Francisco for a rally and simulated pro-transit funeral procession.
Benjamin Fanjoy/The Chronicle Special
The idea of ​​a mock burial came up last week and gives the individual marches an adrenaline rush. In San Francisco, for example, there were calls for volunteer pallbearers before a crowd of about 125 people made their way from United Nations Plaza, with Kelly impromptu preaching a sermon of supposed commemoration.
"The cause of death is neglect," he stressed. "The cause of death is abandonment. … Gov. Gavin Newsom is ready to pull the plug."
The closest a Newsom defense attorney came to was state senator Scott Wiener, who helped drive the push for a virtual five-year extension of state transit subsidies, an early response to the pandemic.
"There's a lot of good in the governor's budget — it preserves so much of the safety net," Wiener told the crowd, which had grown to around 200 at the time of the rally outside City Hall. "But in this area the budget is simply not enough."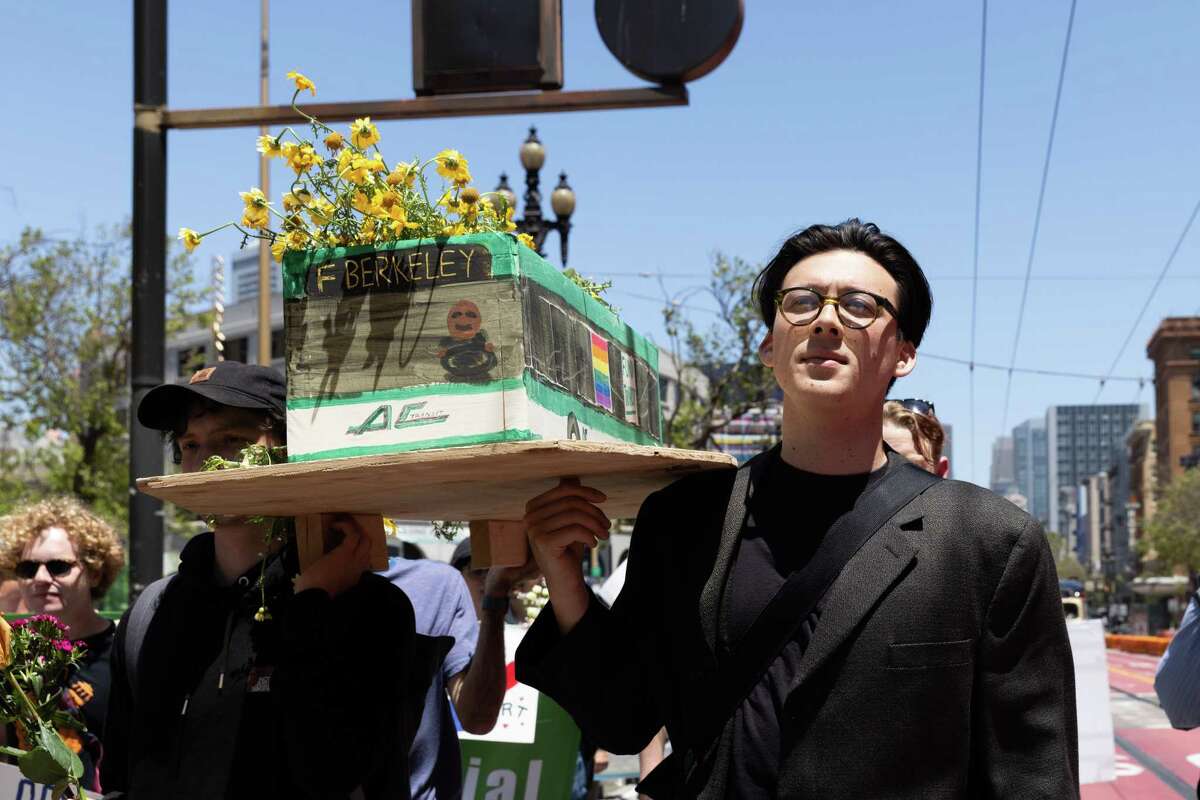 Brandon Yung helps carry a model AC Transit bus and replica coffin at the Transit rally in downtown San Francisco on Saturday.
Benjamin Fanjoy/The Chronicle Special
Speakers emphasized the role of transit in reducing carbon emissions and its importance for marginalized groups in society, such as low-income, elderly or disabled residents. Frustration over conditions with systems like BART has been little spoken of – a factor cited by former and current drivers in a recent survey.
"It's hard to imagine San Francisco and the Bay Area without excellent public transportation," Wiener said. "We should never take it for granted."
At the same time, Wiener said that talks with other lawmakers combined with pressure from public transport fans could create an opportunity for some sort of subsidy in the upcoming budget: "I'm more optimistic than ever that we'll get this resolved," so additional cuts are not necessary.
In Oakland, speakers were AC Transit Directors Jean Walsh and Jovanka Beckles, and BART Director Lateefah Simon. Public transport advocates taking the mic at the San Francisco rally included Mayor London Breed and supervisors Rafael Mandelman and Dean Preston.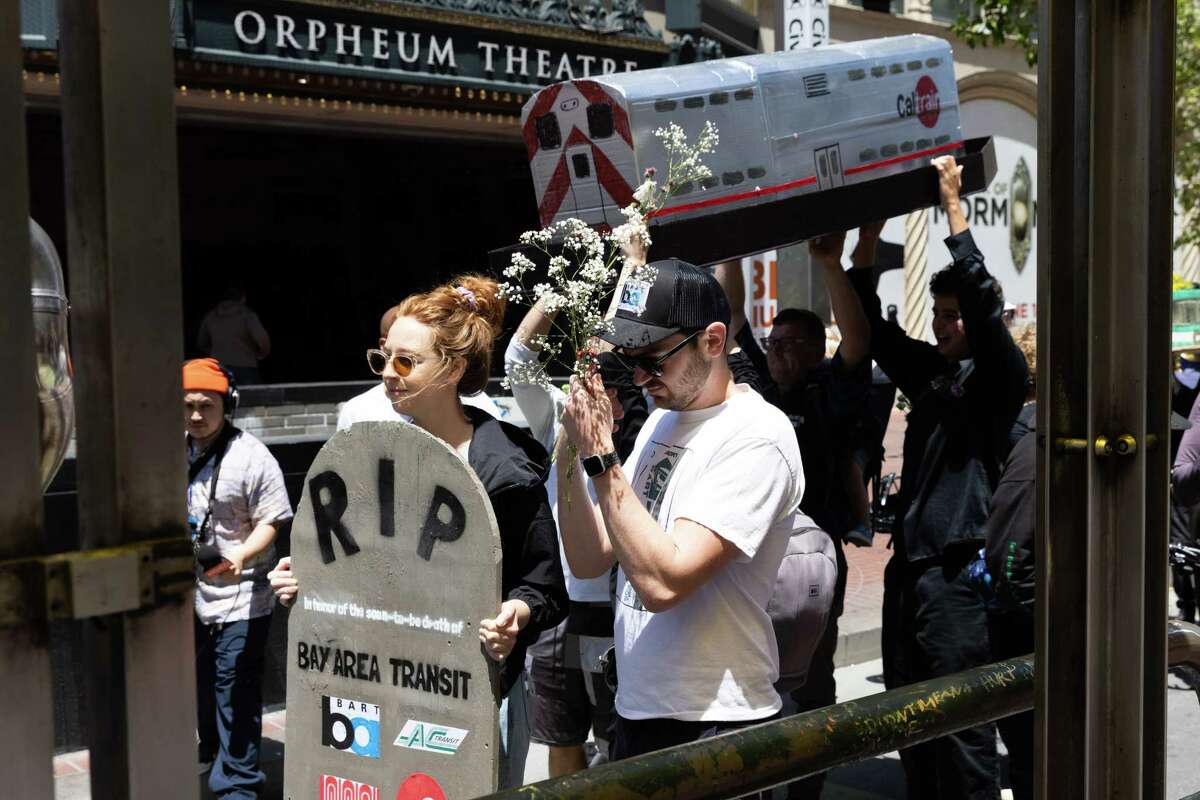 A group carries a model Caltrain car during a mock funeral procession in San Francisco, a rally for public transit funding. Proponents called for more funding to be allocated to the state's public transit companies.
Benjamin Fanjoy/The Chronicle Special
"These are a merry bunch for a funeral procession," Preston remarked at the beginning of his speech.
The idea of ​​mock catulls for a mock funeral "came naturally out of the idea of ​​a (financial) death spiral," said Lian Chang, board member of Walk San Francisco. She also collected the playful protest art during three hectic nights with friends at her Richmond District apartment.
However ad hoc the result, "I'm glad we made it," Chang said. "I'm not happy with the circumstances, but it was a way to draw attention to the seriousness of the (possible) cuts if no solution is found over the next few days."
Reach John King: jking@sfchronicle.com; Twitter: @johnkingsfchron