Handyman
Meet Bob Burnside, Your Castro Handyman And Extra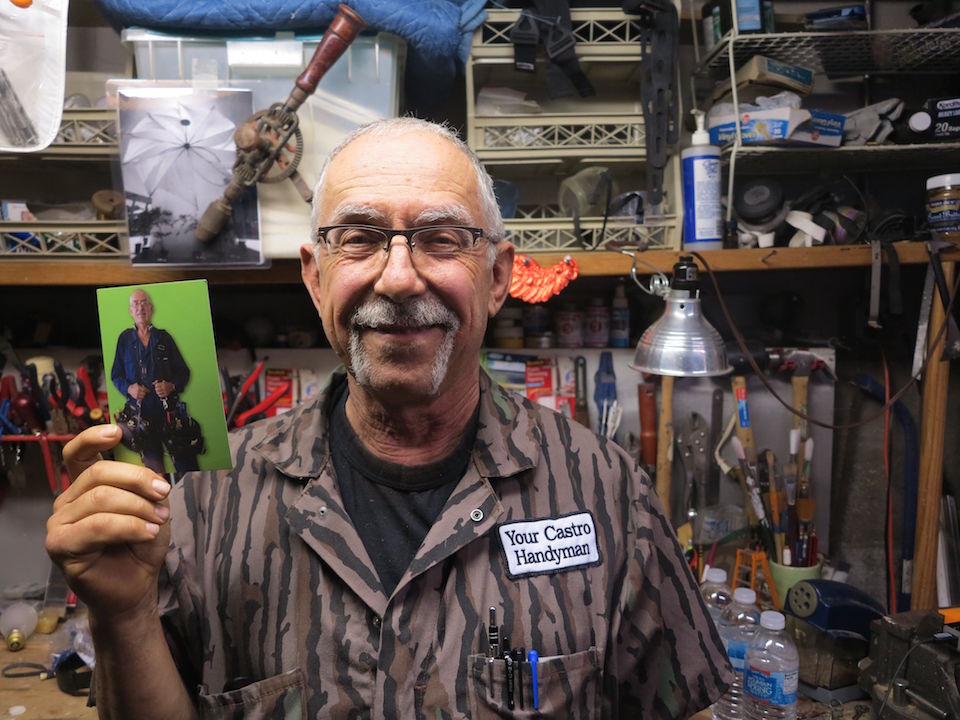 Bob Burnside is much more than your local Castro handyman.
After completing the Peace Corps service in Peru and teaching in New York, he came to San Francisco in 1968, attracted by the idea of ​​living together. Since then he has lived in different communities and is a community activist, newspaper editor, gardener, published author, artist and of course Your Castro Handyman.
We met Bob at his house and learned about his very productive tenure here at the Castro.
How did you become a craftsman?
"My dad had a business, I learned basic carpentry skills from my dad, and the rest I learned by taking things apart, being curious and paying attention. Before I went freelance as a handyman, I had a shop called Custom Services that made fabric-covered office dividers and reconfigured people's offices. I also worked in a carpentry shop. When they both stopped, I was just starting to do some handy work in the neighborhood and it grew into my artisan business. "
What do you like about being a craftsman?
"I like the lessons, I have a lot of free time and I enjoy helping people and solving problems. I also value other people's houses. I actually have a site called Unusualsfarchitecture.com. I appreciate going to different buildings, new buildings, old buildings, Victorians … I've even worked on the new developments around the Castro. "
How do you see the new development?
"I think it's mostly done by speculators. I think they haven't fully considered the impact on San Francisco, especially traffic."
You are a sculptor too. How did you come to this?
"My sculpture started in 1964 with a senior project at RISD. With the ability to visualize in three dimensions, I developed a geometric language based on the basic joint of 12 intersecting triangles. I made large-scale sculptures in the 1980s, both civic and corporate sculptures. I have pieces in Alaska, Reno, Wisconsin, and of course here in San Francisco (you can see them here). I got into sculpture because I got my degree in industrial design from the Rhode Island School of Design, so that kind of led to it. "
What's the biggest sculpture you've ever made?
"Probably the one in Alaska. It's 12 feet tall and made of aluminum. I got $ 30,000 for that. "
You previously published a publication called The Castro Star. Tell us about it.
"I founded the Castro Star in 1995 as a member of CAPA (Castro Area Planning and Action), a community organization in which I was active for ten years. I recruited volunteer writers because the Castro didn't have a neighborhood newspaper. It's kind of like what Hoodline became. We wanted, like you, to introduce important, interesting people who live in the Castro, and we addressed issues relating to the neighborhood. We have also published historical pictures of the Castro.
"Our print run was 2,000 copies. The only person we paid was the delivery man, who we later found was a homeless man who lived in Golden Gate Park. The paper ran for two years. After that, we partnered with The Western Edition and have been the San Francisco Observer for two years. "
You and your partner David founded the Corona Heights Community Garden. How did you do it
"We spent two years setting up the garden because of the opposition in the neighborhood because they said we would use all of the parking spaces. We started bringing kids from Rocky Mountain School to the park department meetings. They advocated the park and made the old people look silly. After that the park department granted us the space and actually gave us money for the development of the property and gave us fruit trees etc. "
"I took over 2,000 pictures of plants, shrubs, and trees that you can download for free and put into a background, screen saver, or anything you want. I just thought the way people sometimes cut bushes or how Japanese treat plants is interesting. So I've put all of this together with trees from the Sierra tree line and many other locations, as well as shrubs and trees from the neighborhood. "
Tell us about your commitment to Positive Resource.
"I started Positive Resource in 1989 as a recruitment service in my living room with a searchable word processor to connect people with HIV to people who would like to help them by providing work. I left the organization when it partnered with AIDS Benefit Councilors and have become the positive resource it is today. "
You have published two books yourself. What were you
"The first was a children's book called The adventures of Ed the Head. I met a guy on a Queer Connect website and instead of having sex we decided to do a project together. This is his head that is featured in the book. We each submitted concepts, and he liked mine better.
"I wanted to make a children's book. My mom was a kindergarten teacher and I'm interested in child development. The other book is a book about foraging in San Francisco. There was an elderly man who had a piece of land in the community garden. We followed him through Golden Gate Park and the Presidio and took photos of what he identified as edible, both of which are available online at Blurb.com. "
What is your favorite tool?
"My Makita drill and driver. It's powerful, very portable, and I use it every day for everything from hanging pictures to carpentry projects. "
If you need Bob's handyman services, you can reach him by phone at (415) 336-7330 or at yourcastrohandyman (at) gmail [dot] com. He charges $ 70 an hour and claims that "no job is too small".