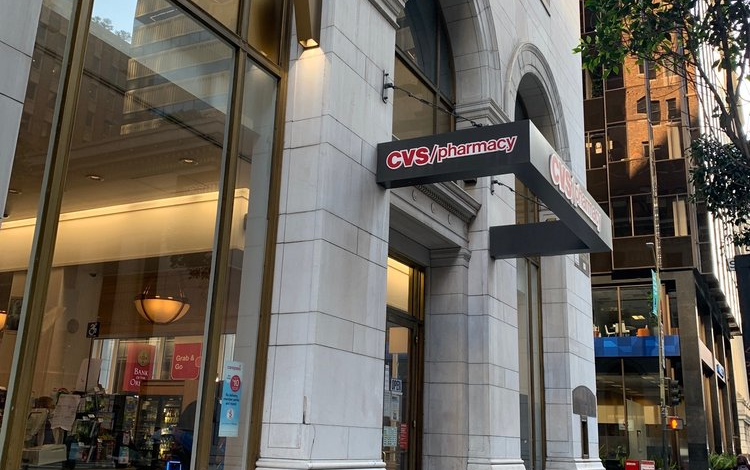 The San Francisco Business Times first reported that at least three stores in downtown San Francisco will be closed forever through mid-January — the CVS locations at 731 Market St. at the Yerba Buena Center for the Arts, 351 California St. at the Embarcadero Center Mall and 581 Market St. at the Montgomery BART station. The latter branch will be closed until January 7, the Business Times reports, while the other two will close on January 15.
A CVS spokesman confirmed to SFGATE that another three will be closed in January — the locations at 2025 Van Ness Ave. at House of Prime Rib, 500 Pine St. near St. Mary's Square and 400 Sutter St. near Union Square. The latter two locations are scheduled to close by January 22, while the Van Ness location will close on January 8.
"Maintaining access to pharmacy services in underserved communities is an important factor we consider when making decisions to close stores," CVS spokesperson Monica Prinzing told SFGATE in a statement. "Other factors include local market dynamics, population shifts, a community's store density, and ensuring there are other geographic entry points to meet community needs."
These closures were expected: CVS announced in November that it plans to close 900 stores nationwide to realign its personal retail experiences and consolidate existing stores.
CNN reported in November that the closures were due to "too many overlapping locations" and a subpar in-person shopping experience. Additional closures may occur throughout the year; There are currently 17 standalone CVS offices in San Francisco.
While concerns about retail theft are high, it doesn't seem like an upsurge in viral thefts has much to do with these closures, though competitor Walgreens attributes the closures of San Francisco stores to retail theft.
A CVS spokesman declined to comment specifically on retail thefts in San Francisco to SFGATE in November, instead commenting heavily on the phenomenon.
"Organized retail crime has been a challenge to the retail industry for many years and has been exacerbated during the pandemic and with the growth of online commerce," CVS spokesman Mike DeAngelis said in a statement to SFGATE.
Prescriptions issued at the 581 Market St., 351 California St., and 500 Pine St. locations are transferred to the 601 Mission St. location, prescriptions from 731 Market St. are transferred to the 789 Mission St., 2025 Van location Ness Ave. Recipes will be moved to 2675 Geary Blvd. Location and 400 Sutter St. prescriptions will be moved to 1059 Hyde St. location.
According to Prinzing, all employees would be offered "comparable roles" at these new locations.